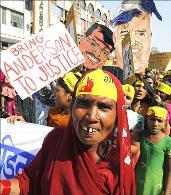 Why is it that we are determined to learn all the wrong lessons from the Bhopal tragedy, asks Michael Pinto.
It is not just hysterical talk shows with witch-hunting anchors bothered only about the latest TRPs that obscure the major issues.
Even serious commentators use the occasion not to address the major fault lines in our response to industrial accidents but to concentrate on non-issues. How else are we to interpret Sunil Jain's advice (BS, June 21, 2010) that Deepak Parekh should give us a break?
Right from the beginning, our focus has been not so much on getting adequate compensation for the victims of the tragedy as on jailing those we see as the main players in the drama.
Why was Anderson allowed to go away and can we get him back to answer charges? Why weren't the more stringent provisions of Section 304 A applied to Keshub Mahindra and the others accused in the case? How can we spread the responsibility net wider so that more people are involved in it?
Critics have rightly complained that basic issues of safety were not addressed by Union Carbide, which was guilty of gross negligence in its handling of hazardous materials.  And this is at the heart of the entire problem. The major fault is not malicious criminal intent but negligence.
That is why the Supreme Court directed that charges be brought under the Section penalising negligence and not criminal intent. To prove the latter, it will be necessary to show that by running the plant, officials of the company wanted to kill, or at least maim, a large number of innocent people in Bhopal.
Since it would be virtually impossible to prove such a charge, the court ordered that action be taken under the Section penalising negligence, i.e. the failure to take adequate precautions when dealing with such dangerous products. And since the law recognises that carelessness is less heinous than criminal intent, the punishment for the latter is less severe.
The wheels of justice will no doubt move in the matter of Anderson's extradition but will putting a 91-year-old man on trial address the woes of the victims of the disaster or clean up the toxic waste in Bhopal?
The guilty must certainly be made to pay but the emphasis today must be on getting adequate compensation and distributing it properly. It must be on cleaning up Bhopal and making it fit to live in. Above all, it must be on ensuring that if such a tragedy ever strikes again, we will have an institutional mechanism in place to ensure that compensation is paid to all who have suffered.
It is on this that we must concentrate. Bhopal took place more than 25 years ago when our response to such accidents was more laid back and less proactive. But there are several plants like Union Carbide's in different parts of the country and several Bhopals might be waiting to happen. Are we any better equipped today to deal with them?
The much-maligned nuclear liabilities Bill provides for instant payment of Rs 500 crore (Rs 5 billion) if any accident occurs in a nuclear power plant.
No questions of establishing guilt or responsibility, carelessness or criminal intent but an immediate distribution of compensation according to the directions of a claims commissioner who must report within three months and whose findings must be implemented within 15 days.
After that, operators of the defaulting plant can face state-monitored action under criminal law for negligence and victims can proceed against them under the law of tort. Why not have similar provisions for all hazardous plants functioning in different parts of the country? At least victims would get immediate relief and the path would be open to them to seek further compensation in the case of negligence or criminal intent.
Jain is right when he says that independent directors cannot be allowed to wash their hands of all wrong-doing by the company on whose board they sit. One could even agree with his suggestion to abolish the positions of independent directors by having them as advisers rather than directors on the boards.
But as long as the law mandates the appointment of independent directors, we will have to live with them. The question is what we expect them to do. Was Keshub Mahindra appointed chairman of the company to ensure compliance with safety requirements of the plant? Unlikely.
There are officials charged with this responsibility and it is they who must stand up and be counted. It makes little sense to insist that the net should be spread so wide that it covers not  only those whose duty it was to implement safety norms but also those who are not in any way involved in the day-to-day running of the plant.
And that brings us to the final point: Should the main lesson of Bhopal be whom we put in prison or how well we compensate and rehabilitate the affected persons?
Deepak Parekh is right when he says that hounding independent directors will only make it more difficult to get good people to join company boards. What is even worse is that it will deflect attention from the main issue which is to secure adequate compensation for the damage done.
America wants Tony Hayward to provide a huge compensation for damage caused by the BP oil spill in the Gulf of Mexico.  They are less concerned with whether he is put in jail.
The author is former secretary, shipping, Government of India.