The flip side of decontrol is greater competition for public sector oil companies, says Sunil Jain.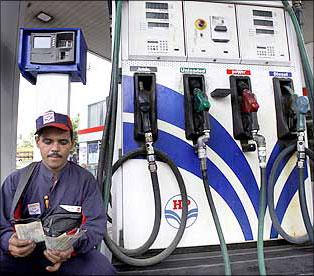 Members of the opposition, both within the government and outside it, will do well to read the Kirit Parikh report on oil sector decontrol to know just how much has been done and how much remains to be done.
To get details of the subsidies that have been cut (Rs 20,000 crore this year) and the ones that remain (Rs 53,000 crore).
There's little doubt a lot has been done. But years of neglect has also meant that there's a huge lot that's left to be done.
More important, decontrol isn't a done deal in even petrol; in the case of diesel, even the ministry's press release, which talks of market-determined prices, says: "Further increases will be made by the public sector oil marketing companies (OMCs) in consultation with the Ministry of Petroleum and Natural Gas."
As for petrol, where the government says full decontrol has been done, keep in mind that such decontrol first happened when the National Democratic Alliance was in power but was later rolled back -- partly by the NDA and then fully by the United Progressive Alliance -- when oil prices started rising.
Look at the Parikh report to see what happens when oil prices start rising from the $80 or so per barrel that they are right now.
At $100, petrol and diesel prices need to be raised another Rs 8 per litre or so beyond what was done last Friday; at $120 the hike required for petrol and diesel is yet another Rs 8 per litre. And make no mistake about it, crude prices are on their way up given the huge shortages in global supplies.
Prices of kerosene have been raised by Rs 3 per litre but as Parikh points out, the subsidy on this is around Rs 18 per litre (this goes up to Rs 25 per litre when crude prices rise to $100 and to Rs 32 at $120).
But what's a lot worse, if you read the Parikh report, is that all this is money down the drain. Just 1.3 per cent of all rural households, for instance, use kerosene for cooking -- to the extent kerosene is used for lighting, surely the increased subsidies given to increase electricity supplies to all villages should be matched with cuts in kerosene supplies.
Interestingly, while the number of households using kerosene fell a third between 1999 and 2005, the government cut the hugely subsidised kerosene allocations under the PDS by just 13 per cent.
Obviously the rest is going to adulterate diesel and the current round of price hikes hasn't done anything to reduce the differential in diesel and kerosene pricing.
Even worse, since kerosene prices were last raised in 2002, you'd think the price rise would keep the rise in per capita incomes in this period in mind. Since per capita incomes have risen 60 per cent, this means prices could have been raised by around Rs 6 a litre instead of Rs 3 without changing the level of welfare of consumers.
The situation in LPG is similar. Even if you mark prices to those in 2003-04 when the LPG subsidy was still a whopping Rs 5,523 crore (Rs 55.23 billion), the hike in per capita incomes justified at least a hike of Rs 200 per cylinder.
While economists and columnists will urge the government to decontrol all prices given what's just been said, there's a flip side that needs to be kept in mind.
Decontrol means a greater role for the private sector -- with the government forcing its PSUs to sell at below-cost prices, private firms like Reliance stopped retail sales several years ago.
Now that prices are getting back to free market levels, it's very likely that firms like Reliance will be back in business. While Reliance and Essar have just 3,000 outlets right now versus around 35,000 for the PSUs, keep in mind that in 2006, while it was still selling in India, Reliance had a 13-14 per cent market share in diesel sales.
Getting back that market share, and more, could take just a couple of years, maybe less.
PSU oil firms have about half the gross refinery margins that RIL has, thanks to the fact that they have much older and smaller refineries.
If they're still going to lose Rs 15,000-20,000 crore (Rs 150-200 billion) this year, in addition to the Rs 55,000 crore (Rs 550 billion)  they've already lost over the previous five years (upstream firms like ONGC lost Rs 101,000 crore, or Rs 1.01 trillion), there's no way they can possibly hope to modernise.
And we're not even talking of their excessive manpower and severe restrictions on operational freedom. Comparisons are odious, but keep in mind that it took just 10-15 years for market-leader PSUs like BSNL and Air India to be bested by private sector firms.