The SEZ policy allows many benefits to a company to help create world-class facilities for employees. Hence SEZs as an idea should not be dismissed, says  A K Bhattacharya.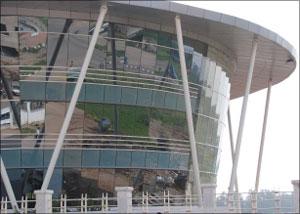 The complex in Chandigarh that has the largest number of rooms with all boarding and lodging facilities is not a five-star hotel. It belongs to Infosys Technologies.
The information technology giant's special economic zone in Chandigarh, built on an area of 30 acres, has about 200 rooms, which offer facilities that will be the envy of any five-star hotel.
The only difference is that Infosys Technologies has built these facilities for the benefit of its employees, associates, visitors and business guests.
Not just the number of rooms, its food court has a seating capacity of over 1,200 and no restaurant in the city can even dream of coming close to that number.
Infosys has, of course, been criticised for building its office complexes on large tracts of land, offering facilities that few offices or commercial complexes provide to people who work with them.
Ask any official at Infosys if acquisition of such facilities is a sign of its greed or an attempt at grabbing land at concessional prices, and she is likely to give a long explanation in defence of what the IT giant is trying to achieve.
The idea, she will argue, is to provide an office with a kind of infrastructure and working environment that should enhance the performance and efficiency level of Infosys employees.
Thus, there is a swimming pool in Infosys' Chandigarh SEZ (it has a seating capacity of 5,000 people and is now only two-thirds full), a full-fledged gymnasium, mobile phone vendors, laundry machines, vegetable shops and several other such facilities.
"We want our employees to come to our office and only worry about work. The support facilities are created in the Special Economic Zone so that our employees can work late, if they want to, and pick up vegetables or do their banking on the campus without losing sleep over such issues," an Infosys official said.
Now, Infosys may be an unusual employer as its past record in offering a satisfying workplace environment is exemplary even when it is not operating out of an SEZ. However, the advantages of an SEZ become obvious when one sees what Infosys has managed to achieve in its Chandigarh complex.
Since the policy for SEZs allows certain benefits to a company to help create world-class facilities for employees and all its stakeholders, SEZs as an idea cannot be dismissed easily. For the same reason, the proposal to give it a quiet burial because of land-related controversies deserves a review.
Undoubtedly, the biggest problem SEZs encountered pertained to land acquisition. As the policy allowed companies to acquire huge tracts of land, some of which was fertile, at a concessional price and because many farmers and villagers lost land as a result, the groundswell of protests against SEZs soon became strong enough to create hurdles for the idea to take shape.
Worse, opportunistic politicians took full advantage of the situation in a bid to garner a few more votes in their kitty.
On the other hand, the latest export figures for 2009-10 show the crucial role SEZs played in boosting India's foreign exchange earnings from exports of goods and services. Exports from SEZs stood at $49 billion, compared to total exports of $138 billion.
In 2008-09, the share of SEZ exports was lower at $22 billion out of total exports of $169 billion. With more SEZs coming up, their share in total exports will become even more significant.
Latest numbers have also dispelled the earlier fear that SEZs would result in diversion of existing exports. Only about 5 per cent of the exports from the zones have actually shifted from domestic tariff areas to the zones.
Policy-makers, therefore, must examine how SEZs can overcome their main problems over land acquisition.
The Madhya Pradesh government has made a positive beginning in this direction. It has begun allotting land for SEZs, with the proviso that land-losers will get land from the SEZ developers just outside the proposed zone. 
This has now become a win-win proposition for the land-losers. Yes, they lose land, but they also get similar-sized land just outside the SEZ, which appreciate in value and marketability because of the construction of the zone.
Instead of becoming land-losers (or project-losers like the farmers in Singur), they emerge as stakeholders and gainers in the prosperity that the proposed zone brings about in that area.
With this scheme clicking with land-losers in a few of the SEZs in Madhya Pradesh, there is naturally a revival of interest in such zones.
The Union government too recognises the growing importance of the zones from the exports point of view.
The idea of discontinuing the tax benefits for SEZs under the proposed direct taxes code, therefore, appears to be a counterproductive move.
Even the proposed goods and services tax regime must make specific provisions for tax incidence on units in SEZs. In short, the government must give the idea of SEZs a fair trial, ensuring its special tax benefits even under the new DTC and the new GST regimes.
It is not fair to kill an idea that was born just five years ago and, as it appears, whose time has come!
Image: Rajiv Gandhi Chandigarh Technology Park in Chandigarh. Photograph, courtesy: Department of Information Technology, Chandigarh.