Railway Minister Mamata Banerjee should travel to China to see how the Chinese railway system is expanding, says T N Ninan.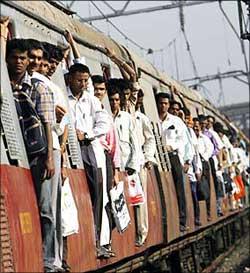 Will Praful Patel please give Mamata Banerjee a ticket on some airline to Beijing or Shanghai, so that she can then take connecting rail journeys to Guangzhou, Wuhan, Zhengzhou, Tianjin, Nanjing, Xian, Taiyuan and other cities in China?
All of them have been connected (or will soon be) by high-speed rail services that operate at 350 km to 400 km per hour -- with some of them running at 98 per cent capacity in this busy travel season of the spring festival.
Inter-city distances of about 1,000 km (comparable to Delhi-Mumbai) are covered in no more than three hours, rendering air services between these cities a poor second choice for most travellers.
Such high-speed rail services extend over about 3,300 km of track, and the plans are to offer some 40 such inter-city train services (including a new Beijing-Shanghai link), stretching over a total of 13,000 km of track, by 2012 -- almost twice the distance of India's 'Golden Quadrilateral'.
That's not all that Ms Banerjee should see when in China. She should also take a look at how even non-high speed trains now run at 200 km an hour and more, while the best speed on Indian Railways has remained unchanged at about 130 km for four decades.
Time was when the Indian rail system was bigger than China's, but now Chinese rail carries four times as much freight as Indian rail does. The imbalance is about to get worse, because in 2009 China increased its investment in its railways by a staggering 80 per cent (to about Rs 400,000 crore (Rs 4 trillion) -- most of the increase being 'stimulus' money from the government that was well spent -- compare that with what India did on what it chooses to call its stimulus).
Further increases in capital outlay are coming (Rs 550,000 crore (Rs 5.5 trillion) in 2010). This is the contemporary equivalent of China's building of a highway network in the 1990s.
Compare this with the poverty of thinking in Ms Banerjee's Railway Budget last month, the small-minded pandering to home-constituency sentiment, the strained financial resources, the repeated cancellation of contracts for a small project like modernising the New Delhi railway station, the effort to put down her predecessor's record through a supposed 'white paper', the snail's pace at which work is being planned for the freight corridors. . . and it becomes clear that what Ms Banerjee needs is to have her eyes opened to what a modern railway system can and should be.
Over there, they have used the best technologies from overseas and married that to local technical and manufacturing ability (some of the high-speed trains are being made in China), while Lalu Prasad as railway minister came last year to the final point of a decision to set up new facilities for making modern, high-powered, energy-efficient locomotives, and then cancelled the deal at the last minute.
The thing about a good, fast railway network is that it knits the country closer together, opens up the hinterland so that it is not just the coastal areas which get the bulk of industrial investment (as has been happening in both India and China), shrinks distances for logistics management and, therefore, allows greater economies of scale in manufacture, and in these days of climate change debate, offers a greener and more energy-efficient alternative to road and air travel.
One hears that China is offering (or will soon offer) to build high-speed rail networks in India too, with significant cost advantages. Given the suspicion of that country's intentions, this may not find any takers.
But whether we make or buy, isn't it time we stopped being frogs in the well?