What does a website say about a company? What for that matter does a balance sheet say? If, like me, you have been a business journalist for many years, your first and lasting impressions are formed from these two things. There are others - the reception area, speed of response, how well people keep time, how prepared they are before an interview and so on.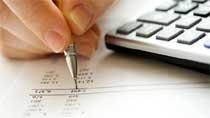 But these come after you have done your homework on a company. And a large part of the homework, especially on listed companies, is on their profit and loss accounts and balance sheets. So, what a company reveals and how it presents these is critical.
For many years, I used to find the (formerly) Zee Telefilms' annual report baffling. My training as a commerce student and an MBA did not help much. These were scores of subsidiaries floating all over the place and it was impossible to understand basic stuff.
By and by the company too must have realised it. Zee now has one of the easiest annual reports in the business to read. By Indian media industry standards, its website is a business journalist's delight with everything neatly organised and catalogued in the investors' section. Most numbers that you might seek on revenue break-ups, by streams or geographies, are easily available.
The other company with a crisp, easy-to-read annual report and balance sheet is (surprise! surprise!!) Balaji Telefilms. Ekta Kapoor's company has been long harangued for its programming. But on the corporate side, Balaji is not just one of the most profitable production companies, it is also the most transparent one.
Its annual report is a reliable source of how the programming business works. That is because it gives revenue and cost break-ups by hours and in languages of programming. This makes analysing the business easier and fun.
One of the most complicated balance sheets, and several of my investment banker friends vouch for this, is the Network18/TV18 one. Some years ago, I remember asking CEO Haresh Chawla why the group had such a complicated balance sheet.
Chawla immediately drew a chart of the corporate structure on a sheet of paper and explained it to me. It helped my work then. However, the group has clearly realised something because its 2008-09 statement of accounts is an easier read.
In many cases, media company balance sheets are designed to give as little information as possible. Go to the websites of some of the top listed companies, several don't even have an investors' section. In others, it is next to impossible to find it. TV Today's financial information is clubbed with news sections as "Niveshak Soochana" on the website of its flagship channel Aaj Tak.
Why don't media companies work harder at having annual reports and balance sheets that are well arranged, easy to read and comprehensible? The reasons are not hard to guess.
Media companies, historically, have never been analysed, at least not in India. The whole notion of raising capital from outside and being answerable to investors is just over a decade old. In 1993, as a raw reporter, I remember struggling to get any numbers - on revenues or costs for films. It was impossible. Everything was a guestimate that someone was kind enough to give you.
Funnily enough, it is the film and software production firms, part of the most-fragmented and disorganised segment, that were at the forefront of the "raising money, becoming more transparent" movement. Adlabs, Mukta Arts, Cinevistaas and Balaji were among the first to list. Then came a lot of broadcasting companies and then the newspaper guys.
Part of it, of course, has to do with policy and stage of evolution. But mostly it has to do with industry culture. The publishing business, for instance, is old, closed and very reliant on owner publishers with big egos. IT or biotech companies, on the other hand, were funded by venture capital or private equity very early on and soon professional managements took over. So, there was none of the baggage that media companies have.
Most media companies in India have just about realised what it means to have investors. As they outgrow their growth pangs, expect better written and presented annual reports, a la Zee and Balaji.