A nation must educate its own, foreigners can only help at the margin, Sanjaya Baru.
Kapil Sibal is a minister in a hurry. That is the good part of the news. India needs more such ministers, especially in critical areas like education and infrastructure. His ministry, the Union Ministry for Human Resources Development, needed someone like him after a decade of destruction under the whimsical and arbitrary leadership of two policy dinosaurs, Murali Manohar Joshi and Arjun Singh, their ideological thought-managers and bureaucratic know-it-alls.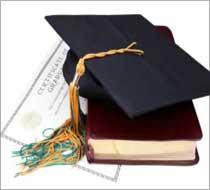 But, Mr Sibal is in danger of over-selling his initiatives. Cautioning Mr Sibal, an editorial in Business Standard urged him to "tread carefully" (February 25, 2010) because education is a subject that affects us all, especially the vocal, urban middle class. Any change in the education policy requires careful political handling.
Defending his latest initiative, the proposed Foreign Educational Institutions (Entry and Operation) Regulation Bill 2010, in a television interview to Karan Thapar last week, Mr Sibal likened his initiatives for education reform to the economic reforms of the early 1990s. The opposition to his proposed foreign education Bill was coming, Mr Sibal said, from the same kind of quarters that criticised economic liberalisation in 1991.
Look where India is now. QED, suggested Mr Sibal, today's critics will be tomorrow's beneficiaries. In 1991, the opposition to reform melted quickly as middle class households saw tariff rates come down and stock market indices go up! Rahul Bajaj was hamara, but the Mumbaikar did not like his Bombay Club.
Dr Manmohan Singh had the middle class on his side when he pushed for reform. Mr Sibal must ensure he too has the middle class on his side. India's upwardly mobile, vocal middle class has no other weapon but access to education to empower them. They will resist any change that may be viewed as curbing that access or threatening the process.
In a perceptive study of higher education reform in India, Devesh Kapur and Pratap Bhanu Mehta (Indian Higher Education Reform: From Half Baked Socialism to Half Baked Capitalism, 2007. Available at: www.ncaer.org/downloads/IPF2007/kapur-mehta.pdf ) tellingly make the point that inequality in access to education in India is far worse than the inequality in income or wealth. "India is to education inequality what Brazil is to income inequality," says Kapur.
Hence, any education reform has to be dovetailed with the strategy for inclusive growth. Economic reform is about jobs and incomes. Education is about status and opportunity.
Trade liberalisation and industrial delicensing may have been about the future of businessmen, but for the middle class, it was about new opportunities to consume and new sources of employment.
Education reform, on the other hand, is about a generation's future. Any initiative must carry conviction and credibility with India's vocal middle class.
Perhaps, the real problem with the foreign education Bill is that it is not as big a reform measure as what Mr Sibal makes it out to be. Is opening up higher education to foreign investment, that too with layers of bureaucratic red tape still in place, the same as reducing tariff rates from 300 per cent to 50 per cent and below, and permitting 100 per cent foreign ownership in scooter manufacturing?
Mr Sibal is marketing this Bill as a "game-changer". He may have been better off marketing it as a "facilitator". Consider the facts. Kapur and Mehta mention in their paper that in 2005-06, the Government of India was spending a total of $$4.3 billion on higher education, while Indian citizens were paying out almost $$3.5 billion as tuition fee to foreign universities and educational institutions around the world.
Both numbers would have gone up since, as Mr Sibal himself has correctly claimed. There are several reasons why Indian students are spending so much money abroad.
The most obvious reason is that an increasing number of Indians can afford to do so. Two decades of over 7 per cent growth has created a wealthy business class, a prosperous professional class and a newly-rich rentier class that are spending money on their children's education abroad.
Some go because they want to, some go because they have to - given that they have the high school scores to secure admission to good colleges but there aren't enough seats available at home in good institutions.
Those who go abroad for education because they want to are unlikely to stay home if equally good opportunities are available at home. But those who go because they have to may prefer being home if enough seats are available. Foreign investment and brands can help ease the domestic supply constraint and, therefore, ought to be welcomed.
The fact that the foreign exchange outgo would get reduced, because Indian students would pay in local currency at home, is an important factor. Instead of Mohammed going to the mountain, the mountain will come to Mohammed!
In the process, India saves foreign exchange, families get to keep their children home and foreign educational institutions will compete with Indian ones to attract students.
But India's higher education system is in need of a much bigger reform and financial support. Increasing access is one challenge. Improving excellence is another, even bigger, challenge.
Kapur and Mehta worry about the Indian elite opting out of publicly-funded higher education, as they have from public hospitals. When tax payers stop worrying about public service delivery, the service will suffer and so will tax collection!
Political interference, cronyism, casteism, trade unionism and an assortment of ills are stifling higher education. No foreign investor or institution is going to change this game. In education, as in national security, India must first help itself before anyone else does.
* With apologies to playwright William Russell!