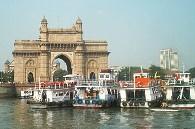 Urbanisation in India has been like climate change in the world, says Arun Maira.
It has been happening inexorably for decades, not receiving much attention, its significance not noted. 300 million Indians live in towns and cities, underserved by utilities, with inadequate housing, and now choking in traffic.
If not well managed, the consequences of this inevitable increase in India's urban population on human development indices, the fabric of Indian society, the growth of its economy, and its political ramifications too, have only now begun to be appreciated.
A city has both concrete and people. It is a combination of technical systems and socio-political systems.
In view of the importance of an orderly and sustainable process of urbanisation for the country's economic growth and inclusive development, the Jawaharlal Nehru National Urban Renewal Mission (JNNURM) was launched in December 2005 to make the changes required in both the hard infrastructure as well as the soft infrastructure of India's towns and cities.
The JNNRUM was also conceived as a long race, a marathon, rather than a quick fix. A strategy for a marathon must be different to the strategy for a sprint.
A strategy is required for each stage of the race: what you do in the first 5 miles of the 26 mile run can determine whether you will make it to the end. Therefore the JNNRUM must be judged by whether it has been holistic in its progress and whether it has achieved what it should have in the first stage.
The transformation of Indian cities faces several structural constraints: weak or outdated urban planning systems and service delivery models, lack of focus on the urban poor, incomplete devolution of functions to the elected bodies as per 74th Constitutional Amendment Act, and an urban management and governance structure that is fragmented between different state-level agencies and urban local bodies (ULBs).
The JNNRUM provided for allocation of substantial central financial assistance to cities for infrastructure, housing development and capacity development. It also specified a list of governance reforms to be undertaken by States and ULBs as conditions for the financial assistance.
The assistance under the programme is provided after approval of City Development Plans and signing of MoAs for reforms. Therefore there is a ramp-up period and sanction and implementation of projects could start mainly in 2007-08.
The programme has so far approved over 2,500 projects with Central assistance of almost Rs 55,000 crore (Rs 550 billion). This Central assistance has been matched by over Rs 45,000 crore (Rs 450 billion) from the states and the ULBs, translating to a total of almost Rs 100,000 crore (Rs 1 trillion) of new committed investment into urban projects so far.
An evaluation of the JNNRUM by the Planning Commission indicates that it has achieved much of what was expected from it so far. As the first national flagship programme for urbanisation, JNNURM has been effective in renewing focus on the urban sector across the country.
The need to manage the process of urbanisation is now on the agenda of all states, ranging from Bihar, which had been 'de-urbanizing' so far, to Maharashtra and Gujarat which have been grappling with urbanisation issues for many years.
It has been successful in raising the aspirations of ULBs and enabled them to execute projects at a much larger scale than they were used to. It has made the states aware of the range of issues to be addressed and has provided a comprehensive framework for governance improvements.
JNNURM has expanded the concept of city improvement beyond roads, flyovers and traffic management with slums moved out of the way, to concerns of sanitation, water, and public transportation, and now even to more fundamental needs and rights of the underserved poor in the cities.
The programme has encouraged investments to flow for basic services in cities, particularly for the urban poor.
Over 80 per cent of the funds committed have been for projects in water supply, sewerage, drainage, and solid waste management, reflecting the reality that most cities still have significant backlog in the provision of basic urban services to all their residents, especially the poor.
The evaluation reveals, as should be expected in any major new thrust, that there are variations in progress across the country. In the four years since this major programme was launched, some states and cities have progressed further than others towards tangible results.
An overall assessment points to the need for more attention to governance reforms and building capabilities in the next stage of the marathon. Devolution of power and responsibilities is necessary from the states to local and metropolitan bodies.
Devolution must be accompanied by a well managed process of building capabilities: for urban planning within the cities; for more professional management of urban services; and, critical to devolution, a real step-up in the management capabilities of ULBs.
On these fronts, state governments and ULBs need more support to build the financial and governance capacity needed to sustain the new momentum for creating inclusive and livable cities.
Much attention has gone in the first stage to the metros. More attention is required now to smaller towns where urban conglomerations are enlarging. Healthy growth of smaller towns will ease the pressure on metros which are already bursting at their seams.
These towns, spread more widely across states, will also spread the benefits of urbanisation and economic growth more widely. This will make economic growth more inclusive and dispersed in line with national objectives.
Finally, the process of 'change management' is the key to city renewal. Technically and financially sound schemes to produce 'world-class' infrastructure and cities can be drawn up by experts. But they are almost worthless if they cannot be implemented.
Obtaining alignment of the stakeholders who will be affected by the changes is essential.
This is the key lesson from success stories from several states, including Gujarat, Maharashtra, Andhra Pradesh, and Karnataka. They suggest that good process is as important as good policy. Such successes are founded on systematic involvement of affected citizens, government agencies and private builders and service providers.
Therefore a process for finding and disseminating best practices for change management through systematic 'Public-Private-People' partnerships must be a strategy for the marathon of urban renewal in India.
The author is Member, Planning Commission.