Who is Sandip Ray? Well, he is a technically sound filmmaker from Bengal. He has made a few Bangla films, leaving no one in doubt about his grasp of the medium and ability to tell a story in celluloid. And, of course, he is Satyajit Ray's son.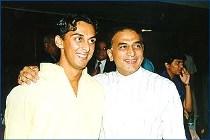 The last bit, however, has set off a peculiar problem for him. Since he is also the son of India's best-known film director, Sandip Ray's films raise expectations. Viewers and critics alike compare his films with those of his father in the manner in which a particular theme is treated and, indeed, the entire film is made.
It is a special yardstick by which an artiste is compared with a master just because he happens to be his son. His work is judged rarely on the strengths or weaknesses of his work alone. Not surprisingly, therefore, Sandip Ray's biggest asset, his father, also becomes his biggest liability.
The obvious question that this throws up is whether Sandip Ray chose the wrong vocation. Joining the same profession one's father belongs to inevitably leads people to compare and contrast the son with the father. For a son, it is that much easier to excel if he chooses a profession different from that of his father.
In that sense, Satyajit Ray was an astute son. He did dabble in children's literature, like his illustrious father Sukumar Ray. However, that was not his main area of work. He chose to become a film director. Consider for a moment Satyajit Ray's fate, if he had only written those Feluda stories and not made those memorable films! Invariably, Satyajit Ray would have been compared with the incredibly more entertaining poems and stories that Sukumar Ray had penned. In other words, Satyajit Ray would not have been Satyajit Ray, if he had not become a filmmaker.
In sports as well, one sees a similar story. Ashok Mankad, who managed to play for India in a few Test matches, was always compared with his great father, Vinoo Mankad. The verdict was unanimous. The son was no patch on his father. In recent times, Rohan Gavaskar faded away as an average cricket player, although he tried hard to make a mark on his own. Every time he would come on the field, he had to live up to the expectations of being Sunil Gavaskar's son. Jeev Milkha Singh did not make that mistake. He chose to be a golfer, instead of a sprinter like his father, Milkha Singh. Today, Jeev Milkha Singh is as famous as his father, if not more.
For sons, therefore, the trick seems to be to avoid a comparison with their illustrious fathers. That can be achieved if the son avoids the profession of his father, particularly when he has to contend with as illustrious a father as Sunil Gavaskar in cricket or Milkha Singh in athletics.
That is why, perhaps, there is some merit in what Malvinder Singh and Shivinder Singh have done in the last couple of years. There was a general outcry, accompanied by a sense of outrage, when the two brothers exited Ranbaxy, which their father Parvinder Singh had developed into a world-class pharmaceutical company with a multinational footprint. However, the developments in the last few months will make you wonder if the two sons realised that to make it big in life they must not operate in the same business as Parvinder Singh did.
First, they sold Ranbaxy to Daiichi Sankyo of Japan in an eye-popping deal and pocketed over $3 billion in the process. It is true that they were bitterly criticised for having sold the business their father had so painstakingly built over the years. In retrospect, however, it was a deal that helped the two brothers exit the company at a time when the pharmaceuticals space was getting more complicated and they had clearly no stomach to carry on that battle.
In the last year and a half, the two brothers have focussed on two of their businesses - Fortis Healthcare and Religare. The growth in Fortis as also in Religare was fuelled largely through acquisitions. Early this month, the two brothers decided to acquire Singapore's Parkway, a health-care company, which would make Fortis Healthcare Asia's largest in this space.
The two sons are clearly sending out a message loud and clear. They don't want to be seen as sons who would remain content with their father's business. They will monetise that business and chart a new growth path for themselves. They will not like to be seen only as Parvinder's sons in Ranbaxy. They will like to be known as Malvinder and Shivinder in a business that they have grown themselves. There would then be no scope for comparing them with Parvinder Singh. Or subjecting them to critical analysis as to how the two brothers are dealing with a company that their father built. They have understood that golden rule, to which the only exception so far seems to be India's thriving political families!