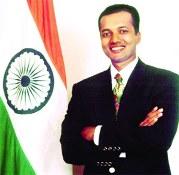 Businessmen and society have a strangely contradictory relationship, says Kanika Datta.
The economic activity they generate can be an agent of social transformation and progress - a quick look at the changes in Indian society in the last two decades would be one indicator. Yet, businessmen in themselves are rarely conscious promoters of social progress.
This is hardly unexpected. Business inherently seeks a stable environment in which to flourish, so businessmen tend not to be tethered to ideologies beyond the opportunistic.
Even by those standards, Congress MP Naveen Jindal's support to the ultra-conservatives in his constituency Kurukshetra is hard to understand.
Jindal is a hip, polo-playing, emerging steel and power tycoon. Why should he bother his head with demands to amend the Hindu Marriage Act to ban marriages within the same gotra (ancestral clan) and village?
His protestations that he's only acting as the messenger for his Jat constituents are a tad disingenuous and certainly contradictory.
Presumably, as an educated young industrialist - he holds a business management degree from the University of Texas - he has views of his own about how society should be shaped. His detailed and carefully crafted website positions him as a dynamic young patriot.
These credentials stem from his famous seven-year campaign to have the flag code amended to enable private citizens to fly the Indian flag freely.  "Our National Flag is the greatest symbol of our country and we all must respect it, love it and above all fly it to spread the message of peace, harmony, brotherhood and prosperity," he is quoted as saying under a section titled (no kidding) "Patriot".
First, it is not clear how pushing the cause of extra-judicial local community bodies that condone medieval-style honour killings can be construed as promoting "peace, harmony, brotherhood" etc.
Second, Jindal, who beat a chief minister's son at the hustings, lists an impressive array of things he has done for his constituency, both via the MP fund and his own non-profit outfit. He claims to "have transformed the face of Kurukshetra from being a sleepy town to a modern, developed city which is on the threshold of becoming a major tourist destination".
If we take his word for it, it is even tougher to see why he should feel compelled to give in to the importuning of a decidedly reactionary element in his constituency. (Ironically, his constituency is not that far from Gurgaon, the hotspot of IT and multinational investment, that teems with many young men and women who may well be contemplating matrimony without reference to gotra, caste, religion, and so on.)
In his support of the khap panchayats, Jindal cannot be accused of business opportunism. The units owned by the extremely successful $2-billion Jindal Power and Steel, of which he is vice chairman and managing director, are not based in the state in which his family is a strong local force.
They are, in fact, almost 1,000 km away in raw material-rich Orissa, Jharkhand and Chattisgarh, mineral-rich states that, incidentally, desperately need investment in social infrastructure to pull them out of the current spiral of Maoist violence.
Jindal's motives come down to the purely political. Various local elections are due in Haryana over the next month and a half and most local politicians are wary of antagonising the powerful but conservative Jat community in the state.
This is understandable in the larger interests of realpolitik. But it is worth wondering whether such active support for their retrograde agenda was called for - Jindal could as well have not said or done anything at all.
Jindal's latest move is, however, no more misguided than, say, Ratan Tata, Anil Ambani or Sunil Mittal.
Last year, these leaders of India's most powerful corporate groups chose to heap lavish praise on Narendra Modi for his pro-industrialisation drive in Gujarat.
This is okay - no one will deny that Modi has made Gujarat an unusually industry-friendly state, hugely beneficial for investment-hungry businessmen. But surely, given Modi's openly expressed communal proclivities - even Vajpayee considered asking him to resign after the 2002 riots - none of them needed to go as far as to endorse him as India's next prime minister.
Such amorality is worth thinking about as more and more businessmen eye a political vocation as a way of capping successful business careers. Their growing number in both Houses of Parliament - Rajeev Chandrasekhar, Rahul Bajaj, Rajkumar Dhoot to name a few - may raise hopes for a more progressive outlook towards society, but as Jindal has shown, this need not be the case.
As for Jindal, his electoral opportunism may be less hard-headed than he thinks. Here's what one of his, presumably youthful, constituents wrote about him, passionately if ungrammatically, in response to a news item on his support of khap panchayats: "I belong to Kurukshetra and feeling ashamed that Mr Naveen Jindal represent our constituency in parliament.
The person who claims to be youth icon for modern India, just be popular as politician and secure vote for future is doing the rubbish."