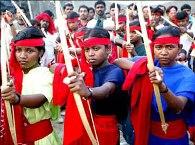 Chhattisgarh needs special people's offices to identify skills and link them to earning possibilities, says Sreelatha Menon.
If a poor villager's daughter or wife is raped, and police don't act, maybe he will turn to those who will let him fight the criminals himself. Same when his land is taken away and he is given a pittance in compensation.
As a result, he may turn to secret groups who are offering to arm him and let him fight these state-supported "enemies".
What can make these armed men and women give up their fight against the state? What can bridge the "trust deficit'' that the home ministry is so aware about, unlike the states?
Should their brothers and sisters be recruited as special police officers to fight them, to bomb their homes, to burn their fields, to steal their cattle? Is dividing a people the best way to gain their support?
In that sense, the state, led by the likes of Chhattisgarh Chief Minister Raman Singh, one of the authors of this strategy, which his party is so proud of, has won. The Naxalites recently claimed that their main target in the attack in Dantewada were special police officers (SPOs), that is, relatives of the very men and women who are part of the Naxal army.
What Chhattisgarh needs is not SPOs, or legally-armed men to fight illegally armed men, but special people's offices to identify skills and link them to earning possibilities.
The brightest ray of hope for now is not air strikes on Naxalites but setting up of 1,500 ITIs in disturbed areas to impart skills to the uneducated and help them find jobs.
The labour ministry is in the midst of fine-tuning this initiative. The Cabinet note is awaiting approval.
There is also a special skill development initiative and its 250 courses-cum-jobs packages.
All these together make for a Rs 3,500-crore (Rs 35 billion) initiative spanning all Naxal-hit areas.
Maybe Singh, who spent a couple of days in New Delhi talking to the media and the Centre about how bad the Naxalites are, has a chance to show how good he is in comparison.
The 250 skills identified by the initiative and the courses prepared are too few to accommodate the skills the people of Chhattisgarh possess. If the state could identify more skills and suggest courses for them, maybe people would consider doing day jobs and forget about bombing buses.
For example, there could be certification courses for teachers in traditional crafts. They could be made part of various design schools in the country and young people could learn from craftsmen the shape and colour of ethnic Indian creativity.
There could be certification courses for rural sports like archery, swimming and wrestling. These talents could be deployed across the country through private agencies.
A state taekwondo champion in Sikkim drives a taxi. He and several others in Sikkim could easily take care of the shortage of taekwondo teachers in the country.
In the national capital region, the construction boom has seen hundreds of local rural youths join as swimming coaches in pools in apartments, schools and institutions. Most of them are not highly educated but have got certification from YMCA. Today, they make at least Rs 8,000 a month.
In Chhattisgarh, Singh has to look around him to find youths who chase deers. There are archers who can easily be the country's hope in London Olympics. And there are  countless Abhinav Bindras waiting to be spotted.
That is the common wealth of this nation which the labour ministry or the sports ministry are yet to discover.
If Singh can identify even 25 skills and link them with earning possibilities, Naxalites would be left without steam.