But the toughest opposition to a strategy for halting climate change also comes from entrenched private interests, says Rajni Bakshi.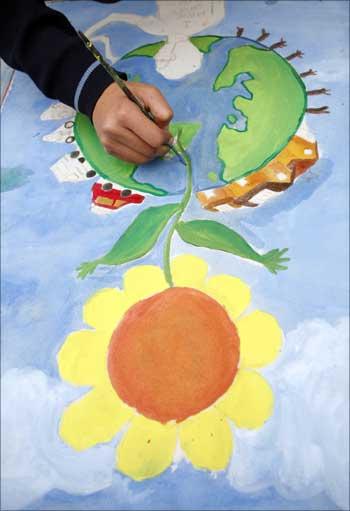 Those who have been despairing about the spectre of climate change can allow themselves to be cautiously cheered up by the following news: a United States-based coalition of research and activist organisations has estimated that $1.2 trillion has been invested, over the last two years, by private companies in green technologies.
This is the finding of the Green Transition Scoreboard, which was launched by Ethical Markets Media and the Climate Prosperity Alliance in December last year.
The scoreboard adds up what major companies, across the world, have publicly announced as investments in solar, wind, geothermal, ocean/hydro, energy efficiency and storage, and agriculture.
Notably, this scoreboard omits nuclear, 'clean coal,' carbon capture and sequestration, as well as bio-fuels.
According to Dr Marc A Weiss, chairman of the Washington DC-based Climate Prosperity Alliance, this indicates that the private sector is ahead of governments in making the transition to a greener economy -- which uses fewer resources that are intensively re-cycled.
However, the toughest opposition to an aggressive strategy for halting climate change also comes from entrenched private interests. So where do efforts like the Green Transition Scoreboard fit into the dark realities of the international political economy?
Clearly, there are many different kinds of 'private capital' out there. Formations like the Climate Prosperity Alliance rally those who believe that the dynamism and innovation of capitalism can be deployed to rapidly forge solutions to address the climate crisis.
Such people were much further away from the mainstream in 1992 when the United Nations Earth Summit at Rio first established 'sustainable development' as an official goal.
At that time people like the futurist Dr Hazel Henderson were radicals who inspired activists -- not policy makers or business people. Twenty years ago, relatively few people paid attention when Henderson wrote about the need for societies to out-grow a 300-year old, polluting, fossil-fuelled industrial era and move on to advanced technologies of the information-rich solar age.
Today, Henderson's Ethical Markets initiative is a hub for ideas, information and a wider range of people than ever before -- since it aims to reform markets in ways which facilitate the transition to ecologically sustainable economies.
Now financiers, businesses, economic development authorities, scientists and NGOs are drawn into a volunteer, global network like the Climate Prosperity Alliance.
They deploy earth systems science which draws on multiple scientific streams to comprehensively map the interaction of the atmosphere, land and oceans.
The alliance aims at fostering technologies based on increasingly sophisticated knowledge about planetary processes and ecosystems.
'Climate Solutions 2', a computer model generated by the Australian company Climate Risk Pty., shows that $1 trillion invested every year for the next 10 years can assure the global transition to sustainable prosperity and job growth.
Ironically, this $10 trillion over 10 years, is a fraction of what has been doled out by governments to failed banks in the United States and Europe. It is also less than 10% of the world's pension and institutional funds -- which stand at about $120 trillion.
Climate Prosperity Alliance argues that if institutional fund managers shift 10% of their assets away from hedge funds, risky derivatives and commodity speculation to real investments in a greener global economy -- they can assure their beneficiaries a more environmentally secure future.
Some of the ground work for this shift already exists. For example, financial institutions with a total of about $19 trillion under management have signed the United Nations Principles of Responsible Investing (UNPRI) and pledged to allocate more funds for green companies. Among those who have signed-on are giant pension funds in the USA and Europe.
The UNPRI, launched in 2006, were crafted by a multi-stakeholder group of experts from the investment industry, intergovernmental and governmental organizations, civil society and academia -- coordinated by the United Nations Environment Program Finance Initiative and the UN Global Compact.
Since then it has become more common for major financial institutions to give some consideration to environmental, social and corporate governance (ESG) before making investments. 
However, these Principles for Responsible Investing are voluntary and 'aspirational'. Signatories cannot be penalized for failing to practice the principles. Those who have faith in the UNPRI see it as a work in progress, as an impetus for innovation and collaboration.
But participation in the annual assessment survey undertaken by the UNPRI is a requirement to remain listed. In 2009 the survey showed that out of the 741 signatories 87.1% asset owners and 83.6% investment managers have policies in place for tackling ESG issues.
Votaries of the Green Transition Scoreboard hope that the data it provides will encourage investors who are not yet on-board to enter the field of green investing. A substantial shift of this kind may prove to be a more effective instrument than government policies -- which are still often influenced by powerful incumbents of the old wasteful economy run by non-renewable energy and unsustainable modes of production.
Rajni Bakshi is a Mumbai-based freelance journalist and author of Bazaars, Conversations and Freedom: For A Market Culture Beyond Greed And Fear.