Air India's employees should not consider their company any different from other firms that allow only authorised personnel to speak to the media, says Kanika Datta.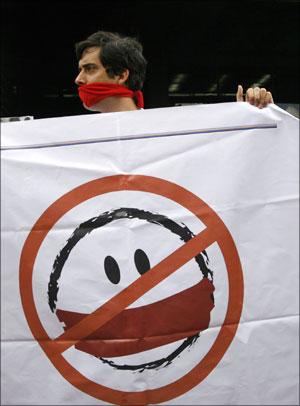 In September last year, workers at Green Isle Foods, a pizza-making plant in the Republic of Ireland, threatened to go on strike because three workers had been dismissed for viewing porn during office hours.
The management's explanation for the dismissals: viewing 'adult material' violated the company's Internet policy.
The union leader's counter: one of the workers received the offending email from outside the plant and had essentially been sacked for 'receiving an email'.
He did not, however, explain why or how two other workers also got to view this email.
Most people would consider this an absurd reason to strike work, right? Trade unions certainly didn't think so.
The Irish Congress of Trade Unions, the umbrella organisation for Green Isle Food's union, actually gave workers the go-ahead to picket the factory.
The fact that almost every company in the world places similar restrictions on its employees no doubt escaped the Irish Congress of Trade Unions and its affiliate at the pizza plant.
As you see, there are trade unions in this universe that are weirder than the Air Corporation Employees Union (ACEU), one of Air India's myriad recognised unions. But only just.
Just days after the airline faced one of the worst air disasters of the decade, the ACEU called a flash strike to protest against an order by the management asking union leaders not to speak to the press. The order came after an engineer gave an interview to TV channels about a controversy over certifying an aircraft.
As would be expected, the strike disrupted the airline's already disturbed schedule (the ACEU's latest complaint is now being dovetailed into larger grievances over pay but that particular strike wasn't due till May 31). An ACEU spokesperson explained that the order was considered a violation of the right to freedom of speech.
The 13,000 chagrined members of the ACEU, which represents the employees of the former Indian Airlines, who struck work on Tuesday and continued to do so on Wednesday, can count themselves hugely lucky they're working in a public sector company.
Here, a management hamstrung by government ownership can only 'earnestly appeal to all sections of employees to join hands to strengthen the airline and maintain high performance' as an Air India plaintive statement said.
Just as every company lays down policies dictating what employees can and cannot do with Internet resources for which it pays, 'gag orders', as the media is predisposed to call them, are an unwritten understanding in all privately managed corporations.
Today, most companies have officially designated spokespersons to answer media queries and act as gatekeepers for official information; indeed, the public relations industry makes its bread and butter from this business.
Any executive who is not an authorised spokesperson but openly discusses company policy with the media is likely to be reprimanded, sidelined or asked to resign, depending on the severity of the transgression.
Such practices may sound like a Goebbelsian nightmare and there is no doubt that they are often used as a convenient means of disseminating non-information -- i.e. covering up sundry scandals and malpractices.
And admittedly, there is some contradiction between what can be defined as disclosure in the 'public interest' -- the kind that makes whistle-blowing legitimate -- and the need for corporate confidentiality (news is often about what companies don't want to talk about, a senior PR executive once told me).
Whatever the principals, information control is an inescapable reality of doing business in a competitive environment today. Every company has a message and image it wants to project to its stakeholders -- the authorised version, if you will -- and many pay good money and expend many man-hours on doing so.
Why, then, should a section of Air India's employees consider their company different? After all, the airline has to compete against nine private competitors now.
Its management is hardly being unreasonable in determining who can and cannot discuss company policy or incidents with the media, especially when its reputation is on the line after the Mangalore disaster.
As it is, this disaster will end up as an even bigger gain for the private airlines. So, loquacious, media-friendly employees will only add to its problems.
Photograph: Reuters