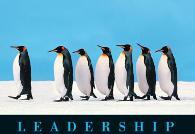 Leading a team and strategising are two different competencies and mutually exclusive, says Giraj Sharma.
The issue of leadership has been done to death. We all know that leadership is about being a catalyst of change, about giving people direction. We also know that leadership is different from management.
Once, while conducting a session, I was asked by an over-zealous middle-manager on the fast track why management experts glorify leaders and leadership qualities. He went on to say that we have created a halo around the issue of leadership. It got me thinking and I carried the observation back to a fellow consultant, Dr Abhay Bhave.
A former civil servant, Bhave is now engaged in developing leadership talent in the corporate sector. He has seen leaders in not just the corporate world but has worked with grassroots political leaders as well.
His views took me by surprise. He agreed with what the manager had said. Leadership, he said, is an over-rated, highly theoretical paradigm.
Ask yourself. How do you visualise a corporate leader? Ten to one the response would be stereotypical. The irony is we rarely examine the leadership issue in a manner that leadership tells us to do everything else, which is by challenging prevailing wisdom.
Our obsession with painting a near-perfect picture of what good leaders are or ought to be has given us a rather flawed picture of good leaders. 
We also expect that a leader should not only lead his/her people but should also think and construct winning strategies. We take it for granted that all leaders would have sufficient charisma to lead people or teams and while doing so be able to work out well-crafted, winning strategies as well. But aren't we mixing things up here? Aren't these two different competencies? And aren't these two competencies mutually exclusive?
Leadership is actually about leading people who have never been taught or trained to be followers (ever heard of an institute or a programme or a lecture that helps people become better followers?).
Leading people is a huge task in itself and one that would drain out any human being completely. Now if we saddle the same individual with the responsibility of strategising, then are we not asking too much?
The second point to consider is that this person may not be good at strategising at all. So what does this leader do? The answer to this is a straightforward one - outsource strategies. Outsource does not necessarily mean from outside the company (from consultants or advisors) it could also be from within.
The leader takes inputs from various experts within or outside the organisation on issues of finance, corporate law, marketing, customer insights, advertising, Research & Development, human resource and manufacturing, so what stops him/her from taking inputs from strategists? Isn't that how Ratan Tata runs the Tata Enterprises or Bill Gates runs Microsoft?
Critical examination of most case studies of great leadership will reveal that these leaders merely led people, inspired them, and motivated them to perform better and in unison.
Chances are that most of these success stories are made to look even more compelling because we attribute strategies and ideas to the leader whereas in reality the leader may not have strategised at all.
He or she would have merely exercised good judgment in picking up the right strategies for the company from among the many given to him/her by the support teams.
It's time we allow our leaders to focus on 'leading' their enterprises to greater prosperity and higher wealth creation and free them from the burden of working out winning strategies, as this is not an attribute that defines their greatness as leaders.
No wonder that some of the most progressive organisations are ramping up their corporate strategic cells or hiring help in the form of strategic advisors. And this may seem ironic, but this has always been the case in the political arena.
You are thinking UPA? Remember a man called George W Bush who 'led' the US of A and the allies for eight long years? Let's not talk about his strategic abilities.
Giraj Sharma is a Delhi-based management consultant.