The Supreme Court's order on free distribution of grains to the needy is most likely meant to be a one-time exercise, feels Bhavdeep Kang.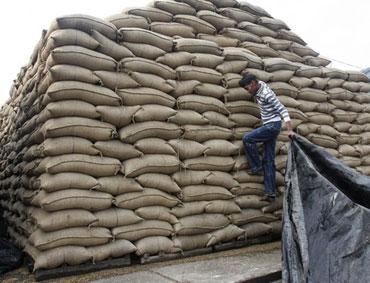 The Supreme Court's order directing distribution of foodgrains to the public free of cost may have to be implemented in letter, but should be interpreted only in spirit.
Opposition and activists have joined hands to revile the government for allowing foodgrains to rot in the Food Corporation of India (FCI) godowns while 43 per cent of Indian children are underfed.
But distributing foodgrains free of cost is not the solution; in the long run, it can only exacerbate the problem.
Agriculture and Food Minister Sharad Pawar's stand that distributing foodgrains free of cost was not possible was sound from a policy standpoint. He clearly meant that institutionalising a 100 per cent food subsidy was neither desirable nor sustainable. Every new subsidy introduces distortions in the economy.
With a plethora of welfare programmes, we are already halfway to becoming a Nanny state -- creating dependencies instead of fostering self-reliance. If rotting of grains amounts to bad governance, so does distribution of grains free of cost.
Food-for-work programmes and the National Rural Employment Guarantee Scheme make sense in times of localised crises, but sarkari soup kitchens do not. Langars and anna kshetras are the province of society, not of government. Traditionally, these are not acts of charity, but of collective social responsibility.
This is not to say that poor storage of foodgrains is acceptable. But Pawar cannot be held solely accountable. After all, the problem is circumstantial, created by the sudden increase in food procurement in response to the world food crisis of 2006 and 2007.
Wheat stocks dipped at a time when there was a global wheat crunch. Therefore, procurement in the subsequent years was increased by 150 lakh metric tonnes. Also, it was decided to maintain a strategic reserve of 30 lakh metric tonnes of wheat and 20 lakh metric tonnes of rice.
Storage capacity was added and currently covered godowns can accommodate 423 lakh metric tonnes. But as of July 1, that meant 178 lakh metric tonnes were in the open (piled on plinths and covered with tarpaulins).
The main reason for rotting of foodgrains was that the 'first in, first out' policy could not be followed. That is, old grains should be distributed first and the fresh grain should be put into storage.
The reasons were two-fold. One, limited storage capacity at the state level meant that food grains could not be moved there and kept piling up in central godowns. Second, the need to quickly move grains out of the mandis in the main procurement bases meant that fresh grain was sent out while the old grain remained sitting in the godowns.
The solution is obvious: decentralised procurement and distribution and construction of moisture-proof silos.
The Supreme Court's order may appear to be a knee-jerk response to wastage of precious foodgrains but there is a long history behind it. For ten years now, the Apex Court has been passing order after order aimed at ensuring accessibility to food, all of which have been poorly implemented by state governments.
For the past decade, the Apex Court has been hearing the case on right to food filed by the People s Union for Civil Liberties (PUCL) in 2001 and has passed dozens of interim orders on nutritional security for infants, children, adolescent girls, pregnant and lactating mothers, etc.
The numerous instances of starvations deaths reported by the media during this period -- but routinely denied by the state and central governments -- bear testimony to the failure in ensuring availability, accessibility and absorption of food.
Small wonder India stands a pathetic 66th in the global hunger index, lower than even sub-Saharan Africa.
The frustration over the government's lackadaisical approach to food security is evident in the Apex Court's order on free distribution of grains to the needy. In all likelihood, it is meant to be a one-time exercise. After all, the target population is not identified, nor is the quantum of grains to be distributed.
Social activists (like Harsh Mander, M S Swaminathan and N C Saxena) have rightly drawn the attention of the government to the huge gaps in the food supply management chain.
Leakage of grains from the Public Distribution System is, by the government's own admission, upwards of 50 per cent. Add to that storage losses and a failure to identify beneficiaries and the reason for widespread hunger becomes evident.
Through the proposed National Food Security Act (NFSA), they would like to ensure a universal and legally enforceable Right to Food. This would address the problem of accessibility to food but it would not deal with availability.
As the Reserve Bank of India recently pointed out, population growth in the last decade was 1.9 per cent whereas foodgrain supply only grew by 1.6 per cent. As a result, per capital availability of food is falling.
The situation with regard to pulses the main source of protein and edible oils without which nutrients cannot be absorbed is even worse.
The anticipated supply gap in the coming year for pulses and oilseeds is estimated at 4.2 million tonnes and 26 million tonnes respectively. Food security has to be based on self-sufficiency. We cannot afford to be import dependent.
It is hard to predict how food-secure the country will be in future, with studies predicting contraction of wheat and rice outputs due to global warming. Increasing dependence of agriculture on ground water (and therefore subsidised power) is alarming, given the fact that the past decade was the hottest and driest in recent history.
It is this aspect that needs to be addressed before any legislation can be put into place.
1 lakh = 100,0000