Member countries seek consensus but challenges remain on tariffs, subsidies and protectionism,says TS Vishwanath
The run-up to the G20 meeting in Seoul, South Korea in November will be busy for members of the World Trade Organisation.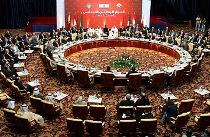 Starting mid-September, various small group meetings will be convened in Geneva to discuss and possibly resolve the outstanding issues in the Doha Round so that the political leaders of the G20 countries can provide a road map for concluding the stalled multilateral trade negotiations and help, revive and sustain global economies.
Several important bilateral meetings were also held in August to try and find solutions to the Doha impasse that has been eluding negotiators for the last nine years.
One important bilateral meeting was the India-US meeting in New Delhi. The US ambassador to WTO, Michael Punke, and Chief US Agriculture Negotiator Islam Siddiqui were in India to iron out the differences that have been on the table for the last two years since the collapse of the mini-ministerial in July 2008.
The meetings in Geneva will be important since member countries have evinced interest in completing the Doha Round. However, there are important issues in each pillar of negotiations that need to be watched to ensure that the negotiations deliver the promised win-win for all countries in the WTO.
The negotiations on industrial goods, for instance, contain an important aspect of what the developed world calls "real tariff cuts" by "emerging nations".
This primarily means the BRIC nations accept tariff cuts below the existing applied rates of duty. Although this may seem logical to some exponents, it goes against the basic tenet of the WTO agreement that only calls for cuts in bound tariffs and not applied duties.
India, for instance, is only expected to cut its existing bound tariff levels of 40 per cent or 25 per cent to lower levels of, say, 14-15 per cent at the most. It would also be expected to bind about 95 per cent of its tariffs at that level as well. What the developed world, however, is asking is way beyond the mandate of the Doha Round.
In the same pillar of industrial goods, the industrialised nations have been seeking "voluntary" negotiations for eliminating or substantially reducing tariffs in sectors that would constitute over 60 per cent of world trade.
These include products like chemicals, industrial machinery, electrical and electronics, auto parts, raw materials, sports goods, toys, and forest products among others.
This move seeking elimination of tariffs is certainly Doha-plus and developing countries like India have been resisting the inclusion of this agenda. The US and the EU, however, seem to have made this agenda a "must have" to conclude the Doha Round.
Another related area to goods will be the negotiations for reducing tariffs on environmental goods. The developed countries are of the view that the there is a need to eliminate tariffs on environmental goods, while the mandate is clearly not seeking such elimination.
It only seeks a reduction and, only if appropriate, elimination.
There is also a lack of clarity on the approach for identifying environmental goods. While several developed countries seem to be adopting a list approach, others have supported a definitional approach. This is a crucial area of negotiations that needs to be watched closely.
Moving to services, the main area of concern for countries like India with an aggressive agenda would be the new protectionist measures that are developing across the world, and these are likely to hurt market access in movement of professionals.
Industry associations like Nasscom have pointed out that India is only seeking access for short-term visas for moving professionals to complete projects.
They have made this point to ensure that negotiators are clear that a distinction has to be made between migration and short-term work visas for business.
Finally, on agriculture, it seems that the main areas that were problematic in the beginning, like a special safeguard mechanism and special products for developing countries, seem to have moved forward. But several other issues including the commitments by the developed countries for subsidy cuts are still hanging fire.
The main issue has been that these countries that provide over $15 billion of subsidies a year to agriculture would like to keep their bindings higher so that there are no real cuts in subsidies.
This area will require a lot of political will to move ahead since subsidies for agriculture in the developed world are more politically important than commercially significant.
September, therefore, is expected to be a busy month in Geneva with negotiators working hard to conclude the stalled Doha Round.
The author is principal advisor APJ-SLG Law Offices