13:47
Fiscal deficit for 2013-14 contained at 4.5% of GDP:
W
holesale Price Index inflation falls to a three year low of 5.98% during 2013-14
C
onsumer Price Inflation also signs of moderation
B
oth, Wholesale and Consumer Price Inflation, expected to go downward
F
iscal consolidations remains imperative for the economy, says the Economic Survey
E
conomy Survey recommends fiscal consolidation through higher tax-GDP ratio then merely reducing the expenditure to GDP ratio
P
roactive policy action helped government remain in fiscal consolidation mode in 2013-14
F
iscal deficit for 2013-14 contained at 4.5% of the GDP
T
otal outstanding liabilities of the central and state governments decline as a proportion of GDP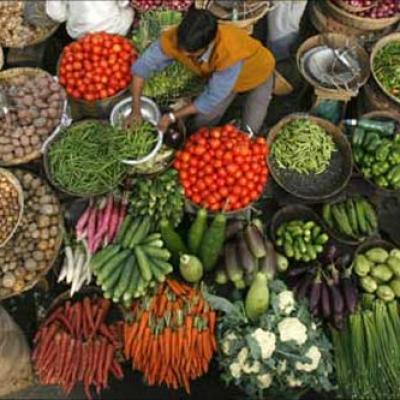 13:33
E
conomic Survey 2013-14 states that in comparison with previous years, inflation showed signs of receding with average wholesale price index (WPI) inflation falling to a three-year low of 5.98 per cent during 2013-14, compared to 7 and 9% over the previous two years. Consumer price inflation, though higher than the WPI, has also exhibited signs of moderation with CPI (new-series) inflation declining from 10.21 per cent during FY 2013-14 to about 9.49 per cent in 2013-14.
F
ood inflation, however, remained stubbornly high during FY 2013-14, reaching a peak of 11.95% in third quarter.
13:24 During 2013-14, FDI inflow (including equity inflows, reinvested earnings and other capital) was US$ 36.4 billion.

Net FDI inflows had been $ 21.6 billion during 2013-14. Overall gross bank credit flow to industry has increased by 14.9 per cent in 2013-14, lower in comparison with 20.9 per cent growth achieved in 2011-12 and 17.8 per cent growth in 2012-13.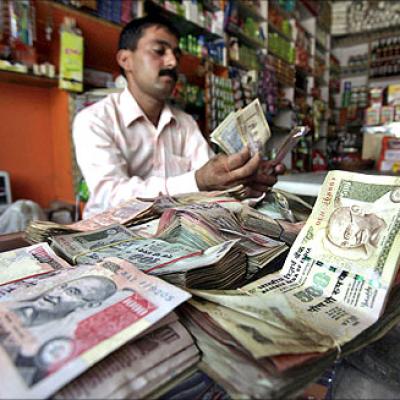 13:10
I
ndias foreign exchange reserves increased from US$ 292.0 billion at end March 2013 to US$ 304.2 billion at end march 2014.
I
ndias external debt has remained within manageable limits due to the external debt management policy with prudential restrictions on debt varieties of capital inflows.
W
orld trade volume which decelerated to 2.8 per cent in 2012 has shown signs of recovery in 2013, albeit slow with a
E
co Survey: Land acquisition, rehabilitation needs urgent attention
12:51 7-8% GDP growth possible only after next financial year

Sustaining improved BoP to be a challenge in the medium term.

Eco Survey: Growth in banks' bad debt is a cause for concern.

Major sector-wise performance of core industries and infrastructure services during 2013-14 shows a mixed trend.

Survey says, India needs to adjust to US tapering, accommodative policy exit
12:46
Markets extend losses; Sensex down 100 points:
M
arkets extended losses after the Economic Survey FY14 highlighted inflation and growth concerns.
T
he 30-share Sensex was down 107 points at 25,474 and the 50-share Nifty was down 31 points at 7,592.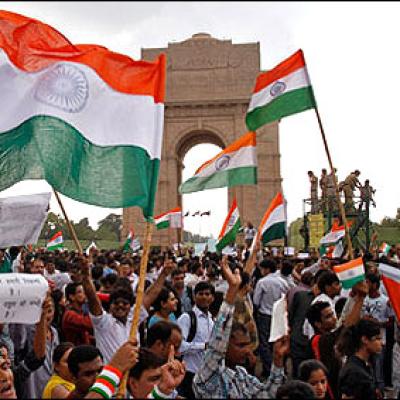 12:44
I
ndia's GDP for the fourth quarter of the financial year 2013-2014 grew at 4.6%. The GDP for the entire FY14 grew at 4.7%. This marks a second straight year of sub-5 percent growth - the worst slowdown in more than a quarter of a century.
12:41 Need to promote structural changes in manufacturing in the medium term.

Biometric identification to improve subsidy scheme.

GDP growth has slowed down on domestic, external factors.

FY15 CAD may be limited to around $45 bn, 2.1% of GDP
12:37 Better to meet fisc consolidation partly via higher taxes vs spending cuts

Govt needs to sharpen focus on spending towards public goods
12:33 There are concerns over El Nino emergence this year.

DTC required as clean and modern replacement for Income Tax laws.

Need to expand decentralised procurement for public distribution system.
12:30 Improvement in manufacturing, Balance of Payments (BoP) expected in 2014-15.
12:29 Govt should move towards low and stable inflation regime through fiscal consolidation: Survey.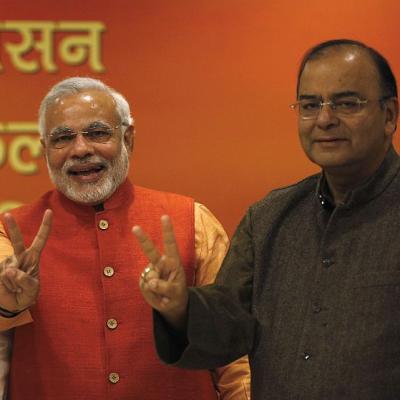 12:27
I
mprovement in current account and fiscal deficits to spur higher growth in 2014-15: Survey.
W
PI inflation shows sings of receding, expected to decline further: Survey.
12:22 Economic Survey 2013-14 estimates FY15 GDP growth at 5.4-5.9%

FM says need new FRBM Act with teeth

Subsidy reforms essential to achieve fiscal consolidation

Moderation in inflation to help ease monetary stance

MNREGA has created labour shortage and raised wages