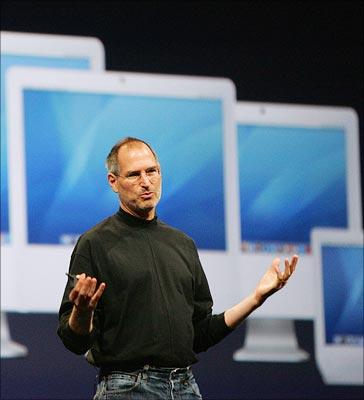 To Mac users, he's already the coolest man in the world.
Now, Blender magazine has named Apple chief executive Steve Jobs as the top of the pops.
In their Powergeek 25 list, the magazine lists Jobs at the top spot, calling him 'the undisputed king of the online music revolution.'
'The iTunes Store and the iPod have done more to change the way people listen to music than anything since the CD, and maybe since the sound recording,' Blender's editor-in-chief Craig Marks told Reuters.
Calling Jobs a technology trendsetter, Marks said today's power brokers are 'tech geeks, bedroom bloggers and Silicon Valley visionaries.'
Second spot was shared by MySpace founders Tom Anderson and Chris DeWolfe, and third went to YouTube creators Chad Hurley and Steve Chen.
The rest of the top ten is as follows:
4. Universal Music chairman Doug Morris
5. Ryan Schreiber, founder of online magazine Pitchfork
6. Ian Rogers, who set up Yahoo! Music
7. Martin Stinksel and Felix Miller, who made community website Last.FM
8. Greg Bildson, creator of file-sharing software LimeWire
9. Christian Schmid, who made file-hosting service RapidShare
10. Coran Capshaw, of online ticketing agency MusicToday
Photograph: Robyn Beck/AFP/Getty Images