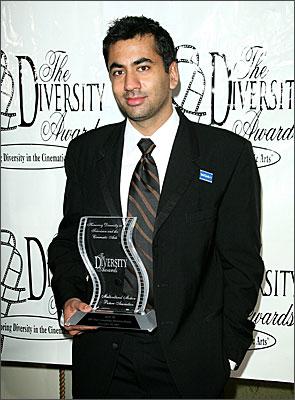 So the confused Gogol Ganguly will now be a teacher.
Namesake star Kal Penn has become an adjunct professor -- for just one semester -- at the University of Pennsylvania.
The Daily Pennsylvanian reports that after a guest lecture last year, Penn -- pictured alongside winning a Diversity Award in November 2007 -- decided that he was ready to take on an entire semester.
"The resources here are some of the best in the world," Penn told the Pennsylvanian. "It's pretty rare to find such talented researchers teaching classes on subjects I certainly never had in high school or as an undergrad."
Also, it's rare to find a University matching your adopted last name, isn't it, Kalpen Modi?
Penn's course is in the Asian Ameican Studies Department, where, for those interested, he's teaching course 109: Asian Americans in the Media.
Huge fans of his Harold And Kumar Go To Whitecastle, the student publication dubs him Professor Kumar.
Photograph: Chad Buchanan/Getty Images