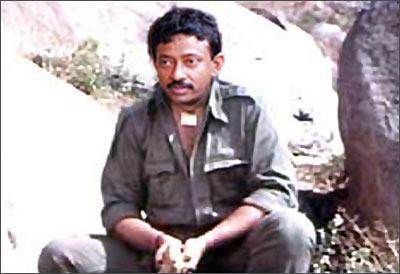 Ram Gopal Varma has still not gotten over his Sholay hangover.
After his disasterous attempt at remaking the film with Ram Gopal Varma Ki Aag, Ramu now calls himself Gabbar Singh.
'I am fascinated to see how people run down my films, criticise them, ridicule them, bitch them out and sometimes also deeply try to analyse my mind through my films,' the director wrote in his blog.
'This reminds me of a scene in Sholay. When Thakur (Sanjeev Kumar) is seething with rage on Gabbar (Amjad Khan) after the massacre of his family, a highly amused Gabbar not able to control his joy chuckles and says, 'De jitni gaali de Thakur. Jee bhar gaali de.'
'Thakur's family is my film, the hate club of mine is Thakur and I am Gabbar. But the sad part for my haters is that unlike how the Sholay Thakur got Veeru and Jai to finish Gabbar, my hate club Thakur is highly unlikely to get their own Veeru and Jai, namely the film which they plan to make, and this the point I want to make,' he adds.
Making peace with his detractors, he further says, 'I can understand people being bored or disinterested... but why hate? I feel it is truly wasteful to expand one's energy in hating someone. Love at least will sometimes give you good sex whereas hate will give you nothing.'
Meanwhile, Karan Johar took on the director in his own blog. 'Heartiest congratulations to Ram Gopal Varma and his sleeper hit Phoonk,' Karan wrote. 'I haven't seen it (and don't plan to) but still feel congratulations are in order.'
Imaging: NV Reuben imagines Ram Gopal Varma as Gabbar Singh.