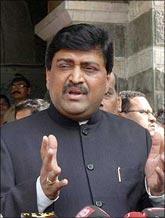 Maharashtra Chief Minister Ashok Chavan tells Business Standard that the state's debt burden is huge but under control.
Maharashtra is facing stiff competition in attracting investments. Is the state government offering any special package or bringing out new agriculture and industrial policies to attract more investments and encourage growth?
It is true that Maharashtra is facing stiff competition. But, as of today, Maharashtra is the most favoured destination for investors. This has been proved time and again by various agencies.
The Reserve Bank of India's report of August 2009 reflects this. In the last one year, Maharashtra has been successful in attracting 20 per cent of the total investments in the country, the highest in the country. Gujarat, Karnataka and Tamil Nadu are behind our state.
In the last five years, we have signed memoradums of understanding for 169 mega projects, out of which 41 have already started. Land has been acquired for 35 projects.
We are expecting investments of Rs 1,40,826 crore (Rs 1,408.26 billion), the expected employment generation being 2,13,000. In spite of the recession in 2008-09, we have sanctioned 38 mega projects, out of which 15 were sanctioned in April this year.
The government of India has sanctioned 146 special economic zones (SEZs) for Maharashtra, the highest in India. The expected investment in these SEZs is Rs 188,738 crore (Rs 1,887.38 billion) and employment generation is 6.5 million.
A total of 51 SEZs have been notified. During the last five years, 416 IT (information technology) units have started functioning in the state.
The debt burden of over Rs 180,000 crore (Rs 1,800 billion), the gap between revenue and expenditure, rising revenue and fiscal deficits and the widening gap between demand and supply of power are matters of great concern.
Though we have a debt burden of Rs 180,000 crore, the economic condition of the state is stable and healthy. This is due to efficient fiscal management and effective monitoring of expenditure.
That's why we have been fairly successful in implementing the Konkan package, amounting to Rs 5,232 crore (Rs 52.32 billion), and packages for north Maharashtra (Rs 6,509 crore -- Rs 65.09 billion), Marathwada (Rs 10,631 crore -- Rs 106.31 billion) and farmers (Rs 1,075 crore -- Rs 10.75 billion). We have waived loans to farmers amounting to Rs 6,208 crore -- Rs 62.08 billion). We have allotted Rs 25,000 crore (Rs 250 billion) for irrigation projects during the last five years.
We have implemented the 6th Pay Commission's recommendations and waived loans given by the Backward Class Corporation amounting to Rs 1,100 crore (Rs 11 billion).
We have also provided substantial relief to those affected by drought, cyclone and excessive rain.
The debt is not a worry. Due to our micro fiscal management, we have not used the overdraft facility for the last five years. Our credit rating has improved. But I firmly believe that we have to explore new and innovative ways for resource management and revenue generation.
What initiatives has the government taken to make Mumbai an international finance centre?
Developmental works amounting to Rs 50,000 crore (Rs 500 billion) are in the pipeline. The Mumbai Metropolitan Region Development Authority (MMRDA) has firmed up a Rs 1,13,000-crore (Rs 1,130 billion) plan that will be completed by 2013.
Most of the recommendations made by the Percy Mistry task force (on making Mumbai a global financial centre) pertaining to the state are already under implementation.
Infrastructure holds the key to promoting employment in the Mumbai metropolitan region (MMR). The infrastructure projects include the sea link, the trans-harbour link, metro and mono rails, a sewage disposal scheme, Mithi river development, Dharavi redevelopment, Navi Mumbai Airport…
MMRDA is also constructing 61 skywalks for pedestrians. The Nirmal MMR Abhiyan will provide more than 20,000 community-based toilet units all over MMR. We are implementing a rental housing scheme to make Mumbai slum-free. We will construct 500,000 affordable rental houses within the next five years.
The 26/11 terror attacks on Mumbai exposed the lacunae in the security set-up. What has the government done to tighten security in Mumbai and the rest of Maharashtra?
The attack was designed to destabilise our country and hamper growth. The prime minister described the attack as war on our country. Let me admit that our police force was not fully equipped and trained to tackle that unprecedented situation. In spite of that, our brave policemen, officers and NSG commandoes were successful in killing nine terrorists and getting one alive.
I have given top priority to strengthening and modernising the police force.
I admit more needs to be done with speed and dedication. I won't say everything is complete. This exercise will continue. There is a political will to fight terror.
I would definitely like to share new ideas from you regarding promoting partnership between the government and the business community to ensure their security. We have to introduce a variety of security measures to contain terrorism while trying not to reduce/distract trade and investment.
How will the government handle the regional and casteist politics played by the Shiv Sena and Maharashtra Navnirman Samiti (MNS)? Is the government serious about tackling such divisive forces?
My government will firmly handle casteist and regional policies of any party. Maharashtra is known for its progressive policies and reforms. Politics of MNS and like-minded parties will create unnecessary rift between various sections of society that will ultimately hamper the state's development.
Are you still firm on your view that time has come for the Nationalist Congress Party (NCP) to merge with the Congress? Are you going to take any initiative for this?
NCP was formed on certain issues and today those issues have no meaning -- they have accepted Soniaji's leadership of the United Progressive Alliance (UPA). It is for them to decide to merge with our party. If they decide, we will welcome them.