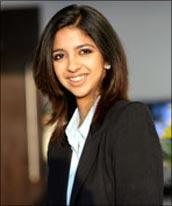 Nandini Piramal, heir apparent to the Piramal business empire as the elder child of Ajay Piramal and Swati Piramal, became the executive director of Piramal Healthcare in April this year.
A 29-year-old graduate from Hertford College of Oxford University, with an MBA from the Stanford Graduate School of Business, she joined the firm in 2006 as a General Manager (Strategic Marketing) and has been closely associated with the company's overseas subsidiaries in the United States and Canada.
Prior to that, she has also worked as a business associate with McKinsey & Co. Now managing the supply chain and operations of the Rs 3,281-crore (Rs 32.81 billion) Piramal Healthcare, she tells P B Jayakumar that she finds no difference between the working of overseas and Indian counterparts. Edited excerpts:
You have worked with overseas companies like McKinsey and with the overseas subsidiaries of Piramal Healthcare. Do you find any difference in the Indian working environment?
I do not find any difference. I had fairly good experience working here in my previous assignment as well. Piramal Healthcare's operations are spread over different continents and we are not an
India-focused company. Many of our senior executives and clients are not Indians.
More global companies are coming to India, either through their own manufacturing units or through long-term alliances. Will this impact Piramal Healthcare's over-dependence on contract manufacturing as a major revenue area?
India will have a major role as a manufacturing hub for pharmaceuticals in the future. This will definitely open up more opportunities for us. Already, our pharma solutions (contract research and manufacturing services) business are fairly well established.
But competition is increasing and the regulatory environment is getting more and more stringent, making survival difficult for pharmaceutical companies, especially generic players...
Competition was there and it will be there. We were in discussions with Minrad (US) for acquisition when the global markets were melting and that was in November last year. Challenges will be there always, in any business.
In the case of Piramal Healthcare, our manufacturing systems and processes are audited on a weekly basis by leading global drug companies. It is a fact that even the US Food and Drug Administration (USFDA) audits are done only once or twice in normal circumstances in a year or two in the case of most companies.
It is always good to maintain high global standards and this will help in improving business.
It is a fact that Piramal Healthcare is on the radar of global pharmaceutical companies for acquisition. Are you open to the idea of a sell-out if right valuations are offered?
We are not for sale and we had said this many times before. We are a growing company and our business is small and is easy to manage. We get so many visitors every week and it does not mean a team from GSK or another company is here to discuss an acquisition. We are not open to a sell-out of Piramal Healthcare.