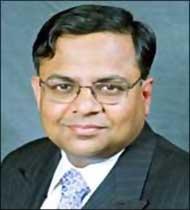 India's largest information technology services provider, Tata Consultancy Services (TCS), beat analyst expectations on both net profit and operating margins during the fourth quarter ending March 31.
TCS clinched 10 large deals (one deal of over $500 million) in the fourth quarter and volume growth was robust at 17 per cent for the entire financial year.
N Chandrasekaran, Managing Director and Chief Executive Officer, believes business will continue to be good despite currency volatility. In a chat with Leslie D'Monte, he shares his perspective on outsourcing, offshoring and growth. Edited excerpts:
Your results for Q4'10 beat analyst expectations. Do you believe business recovery is here to stay?
While no one can predict with certainty how soon countries will recover across the globe, from our business point of view, recovery is here to stay. Our clients are consolidating and want to become more efficient. As they do so, they are asking us to better their IT systems to deal with more data and analyse it more efficiently. They are also asking us to help them deliver better business models by getting more customer insights. Thus, we get increased opportunities to add value to our offerings.
Simultaneously, our capabilities have improved over the past three years. For instance, we have scaled up our RIM (remote infrastructure management) and BPO (business process outsourcing) service lines. And, more financial institutions (FIs) in the US are asking for our services, which was not the case during the recession.
But, analyst reports do not suggest that IT budgets have increased?
IT budgets may be tighter but the portion of IT budgets that we get has increased.
So, will the growth rates (posted a net profit of 50 per cent, YoY in FY10) be sustainable?
One cannot say if we can maintain these rates over the next five years on a larger base. However, we must realise that our $6.3-billion revenue is a mere one per cent of the addressable outsourcing market. And, this market is expanding with the opening of newer geographies. Growth is here to stay.
If the government changes in the UK, will it throw a spanner in the works?
We see good opportunities in the UK market and have a decent presence there. However, we do recognise the fact that there's a learning curve in each country. If there's a change in the government, we will learn to work with it.
And, what about reactions from the Obama administration, which is tackling unemployment?
We understand the situation and have created many more jobs in the US, too. For instance, we have a local centre in Cincinatti. Besides, there are many opportunities in the healthcare and US government spaces for which we will need an understanding of local markets and, hence, more local staff.
However, that does not mean offshoring will not happen. Offshoring gives a distinct cost advantage and we have consistently leveraged the offshore opportunity. While revenue takes a hit with offshoring, our margins increase. For instance, we increased our margins by over 450 basis points (bps) during financial year 2009-10 by increasing our offshore presence. Clients, too, prefer offshoring as they cut costs.
What about currency fluctuations? Will these continue to play spoilsport?
Currency headwinds will continue. Our hedging strategy, we believe, is sensible. But, there's only so much we can do on this front. We would rather concentrate on increasing our business than worry about something we have no control over. Our business model is helping us to be agile and take advantage of opportunities. We hope to keep it that way.
As the economy looks up, attrition also increases. How do you plan to retain your staff?
We recruit a large number of people and we want to ensure their interests are protected. It's a no-brainer that it helps in increased performance and productivity for us. For every 1,000 people that leave, thousands of TCS man-hours are laid waste. We surely would not want that and, hence, will try our best to retain the performers with good compensation packages and other methods.