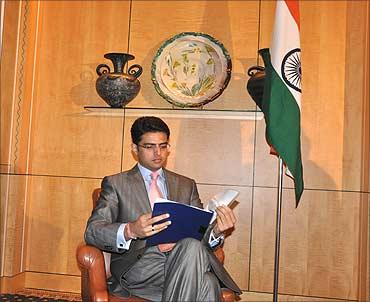 India's demand of information technology hardware is projected to grow to $400 billion by 2014, opening up a vast import market in the country, Sachin Pilot, Minister of State for Communications and Information Technology, told rediff.com.
At the same time, India's exports of IT and IT-enabled services to Canada are worth just $600 million when India's total exports in this sector are worth $600 billion.
Pilot hopes to get Canadian and Indian businesses to explore both avenues to the fullest.
How do you describe the Indian IT sector?
Our software sector is worth close to $60 billion, but the government is now laying emphasis on the hardware sector. It is a good time for Canada and India to come together to face the projected hardware domestic demand in India -- $400 billion by 2014. India will only be able to source $120 billion worth of this from domestic resources; we will import the rest. This will make IT hardware imports the second biggest import for India after its energy and fuel requirements.  
That's why IT hardware is a very important area for us. We have the raw material, the talent, the workforce and the engineering capacity, so there's no reason why India cannot become a hardware manufacturing hub.
We are now considering a report from a top task force. The report has given us ideas for both software and hardware: What needs to be done in terms of policy making, taxation, incentives for people to set up shop in India.
Also, India's export of $600 million in the IT sector to Canada is very small. These numbers don't justify the potential. I want these numbers to grow.
What plans do you have to bridge the urban-rural divide in the IT sector?
This divide can be bridged if the government intervenes and the government has decided that it is not acceptable to have telecommunication and IT services only in large cities. Small towns have as much right to be part of the telecommunication revolution.
We are going to deploy high speed broad-band access to all villages in India in the next three years.
Will you be able to cover all villages in the country in three years?
Yes. In India, English and Hindi are spoken by about half the population. The other half speaks one of the 22 other official languages. My department is giving free software download in all 22 languages so that everyone is able to access computers in their own language. There's also a lot of emphasis on students in primary schools becoming acquainted with computers.
For me, IT has value only if it changes the life of common Indian citizens. It is not just about earning export dollars.
What sort of budget allocation are you talking about for such deep penetration?
The prime minister has indicated we will spend more than $10 billion just on e-governance.
There are other aspects of spending -- on hardware, software, data centres. Money is not a problem. We have enough money, but we want to do it in the quickest time possible, and private players are welcome to partner with the government to make this possible.
You say there are 15 million new mobile subscribers in India every month. 
On an average; in January there were 20 million new mobile subscribers. Our call rates are the cheapest in the world today. People, who have never had any means of communications, use wireless communication now.
It is a paradigm shift in the way companies function in India, and the way the government reaches citizens. Once we have the broadband access in place, the government being at the doorstep of every citizen will become a reality.
Can illiteracy in India come in the way of penetration of services in rural areas?
I agree that a substantial portion of our population is not literate, but by using IT and telecommunication people will be able to get access to classrooms. There will be virtual classrooms for those living in far off places. They will all be able to access lectures and the best libraries. Illiteracy is disappearing very quickly. But we also have to ensure the education is quality education. 
Will people who are not very literate be able to use the services?
Yes. Some of our IT services are voice activated. We are also making sure that you don't have to know Hindi and English to use these services.
My basic emphasis is that we will be able to use mobile and other IT and telecommunication services to push forward our growth momentum, use it as a platform for people to invest and benefit the common people. It is not only about large companies making money. As a politician and decision maker, I want to create jobs; I want to educate people; I want to make sure they get education, sanitation, health care in the cheapest possible way. That's the objective of my pushing IT in this area.
In the next 15 to 20 years, you will see the world has changed completely and India has become one of the front-ranking nations.
Do you believe Canada is serious about augmenting trade with India in the IT sector?
I have positive responses from people I have met so far. I hope in the years to come the interest will increase, and that Indian companies will also invest more here and create jobs. I hope the Canadian telecommunication and IT companies are able to take advantage of the opportunities that are arising in India.
Image: Sachin Pilot, Minister of State for Communications and Information Technology. Photograph: University of Toronto.