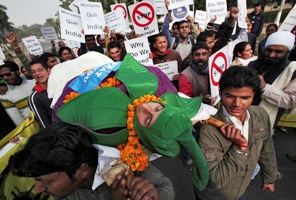 Even as the nation waits with bated breath for the decision to be taken by Jairam Ramesh, the debate on whether Bt brinjal should be introduced in India or not continues.
The minister of state for environment and forests Jairam Ramesh was in Bangalore on Saturday to hold the last leg of discussions with non-government organisations, farmers and scientists on whether Bt brinjal should be introduced in India or not.
After a chaotic meeting, he said the final decision could be expected by Wednesday.
Farmers and others who were opposing the introduction of Bt brinjal got support from an unexpected quarter during the course of the discussion.
T V Jagadishan, former managing director (India) of Monsanto, the company which proposes to introduce Bt brinjal, was quite vocal in his opposition. He made it clear that Monsanto was in the habit of controlling the market and making money.
According to him, the introduction of Bt brinjal in India will have a disastrous effect.
In this interview with rediff.com, Jagadishan spoke in detail about the long-term effects of introducing Bt brinjal and how Monsanto would gain complete control over the market if the Union government decides to go ahead with this plan.
Do you think Bt brinjal should be introduced? If not what are its immediate bad effects?
I oppose the introduction of Bt brinjal. Once the gene is released into the environment, then even God won't be able to stop it.
You have been very vocal about Monsanto. You held a top position in that company. Could you tell us what ill will do you nurture against them?
I have no ill will against the company. When I was the managing director, there was a plan to set up a butachlor plant in collaboration with the Government of India.
However, despite all the hard work by my team and me, Monsanto walked away  from the project. That was a setback. We resigned in protest.
Coming back to the subject, could you take us through the ill-effects of introducing Bt brinjal?
We grow eight million tonnes of natural brinjals in our country. In fact, in various parts of north India, brinjal is produced in excess and sometimes most of it is fed to the cows.
Once Bt brinjal is introduced and the gene is released, it is bound to contaminate the natural brinjal.
Our native brinjal has a medicinal value and once there is contamination, the medicinal value in the natural brinjal will automatically be lost.
Not only brinjal, the gene will affect a lot of other plants, which contain medicinal value. Hence, it will be nothing but disastrous.
What interest does Monsanto have in the project? Why are they so aggressively pushing for Bt brinjal?
There is a lot to gain for Monsanto. They have 280,000 shares in the Maharashtra Hybrid Seed Company (Mahyco).
Mahyco on its part will be marketing the seed. With so much investment by Monsanto, they are bound to push hard for the crop to be introduced. It is all about economics.
Is the issue as big as its being made out to be?
Yes, of course, it is. Monsanto is looking for control and with the introduction of Bt brinjal the control enters the bio-diversity of India.
Once the gene is released, it would for sure destroy the 2,400 different varieties of natural brinjal that the Indian farmers grow.
Is the government ready to take such a big risk? Don't you think that decision to even debate this issue must have been taken after some trial or research?
That is the primary issue. Such things are not tested on humans. Hence, we don't know what its ill-effects on humans could be.
In this case, I could say with confidence that not much research has been carried out and no long-term trials have been conducted.
You say that natural brinjal will be wiped out once Bt brinjal is introduced. How is that going to happen?
Once Bt brinal is introduced, the fruit and shoot borer will affect natural brinjal.
Once this starts to happen, the plant will naturally get affected and will be gradually eradicated.
The problem here is that these issues are to be looked into by the Genetic Engineering Approval Committee.
In this case, the committee is completely bogged down by Monsanto.
If there are so many problems, on what basis has the government even thought of introducing Bt brinjal?
Sadly, the government has depended largely on company-generated data. When a company decides to introduce a new product, the government labs should conduct a trial and produce believable results.
But in this case, the government has not bothered to do so. Based on the data given by the company, the government committee has approved the idea.
What are the long term benefits of the company in this case?
As I said earlier, Monsanto has invested a lot in Mahyco. Once the government decides to introduce this, every seed will then have to be purchased from Monsanto for Mahyco as they will patent the seed.
Then there is this issue of the gene contaminating the natural brinjal. This would only ensure that they would have complete dominance in the market.
What do you think the decision of Jairam Ramesh would be?
I have a feeling that Ramesh is drawing a thin line between public opinion and the US.
We don't have the strength to withstand pressure from the US. Hence, it would be a hard decision for him. Although I hope and pray that he decides against introducing Bt brinal, I feel that he may try and maintain status quo for some time.
What do you think will happen if the government decides to go ahead with the introduction of Bt brinjal?
First, we will lose the natural brinjals. The government will have to bear with countrywide agitation on the issue. Let me tell you, it will not be able to control such protests, they will be that fierce.
Why won't the farmers protest? They will be losing their bread and butter, after all.
Image: Students hold a mock funeral procession against Bt (Bacillus thuringenesis) brinjal or genetically modified brinjal in Chandigarh. | Photograph: Ajay Verma/Reuters