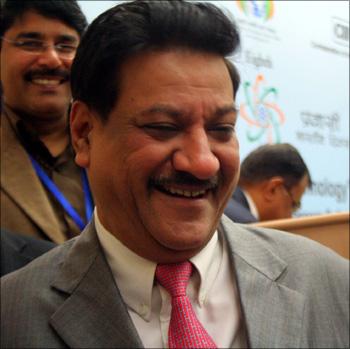 Multinational companies will now find it very difficult to patent products made by using Indian traditional knowledge of science.
The Indian government has digitized all traditional knowledge of medicine available in India and has shared it with the US President and United States patents office so that nobody benefits unduly by using Indian knowledge and files for patents on such products.
"We call it traditional knowledge in a digital library," said Minister of Science & Technology and Earth Sciences Prithviraj Chavan, while inaugurating a seminar on Nanotechnology at the eighth Pravasi Bharatiya Divas.
Speaking exclusively with rediff.com the minister said: "We have digitized all the traditional medical knowledge known to us for thousands of years and shared it with the US President and US patents office."
"We don't want some MNCs to profit by patenting Indian traditional knowledge and selling it expensively globally," Chavan told rediff.com.
"You can't give a patent to a product which is not innovative," the minister said. This seems to be fallout of the US Patent and Trademark Office awarding four patents for the use of haldi (turmeric) that has been used in Indian homes for hundreds of years for treating cold and cough.
Speaking at the seminar Chavan said that the government of India is endeavouring to increase its expenditure on research and development in the field of science and technology from the current one per cent of India's gross domestic product to about 2 per cent.
"In fact we have to reach the level of Scandinavian countries where they spend almost 3 per cent to 3.5 per cent of their GDP on R&D."
He said that in this respect nanotechnology offers a mind-boggling potential in delivering for the poor of India.
He said that science and technology can help India in facing five key challenges of the 21st century that include energy security, food security, availability and quality of water, affordable healthcare for all and terrorism and internal security.
"Science of the 21st century will have to find solutions for the problems created by the science of the 19th and 20th century," Chavan said.
Excerpts from the interview:
How are we encouraging the Indian Diaspora for investing in the field of science and technology in India?
This whole exercise of the PBD is to encourage the Indian Diaspora to come back to India, to invest in India's infrastructure, and co-operate and collaborate in the field of science and technology.
In this particular seminar the focus is on science and technology. But otherwise the entire effort is to bring all of them together and from the government of India's side to address their problems.
This is the eighth PBD we are into. What has been the response of the people of Indian origin?
We started focusing on science and technology only now. We are now telling the world that we should now work together. We are telling the Indian Diaspora to co-operate with us and not compete with the market forces and create great value not only for India but for the entire world.
In this respect the response of the Indian Diaspora has been magnificent.
In your address you said that we should not let MNCs benefit from our traditional knowledge. . .
The traditional knowledge database that we created is humongous. See, you can't give patent to a product that is not innovative. Like if it is already being used somewhere, like in India (haldi, turmeric), then you can't patent it.
We don't want our traditional knowledge to be patented by some MNC and profit from it by selling it at a high cost.
What's your ministry's vision for 2020?
Well, I can't get into detail of al that in a very short span of time. But the President of India has called this a decade of innovation which means we will have to translate what we do in the labs for the benefit of the poor of India.
We will have to innovate our research efforts to help us solve five key challenges like energy security, food security, availability and quality of water, affordable healthcare for all and terrorism and internal security.
Image: Prithviraj Chavan, Minister of Science & Technology and Earth Sciences. Photograph: Reuben Varghese