GVK, the Hyderabad-based company managing the Mumbai and Bangalore airports, is looking at more such projects here and abroad. The group is also formulating a strategy to monetise airport projects in smaller towns. G V Krishna Reddy, Chairman, talks to Business Standard about his plans. Excerpts: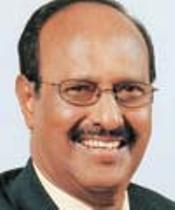 GVK has planned separate holding companies across verticals. What is the strategy and when will you complete this?
The process is on. A separate holding company each for power, transport, airports will be formed, and all the verticals will be separated.
When you are in business, you start doing many things and at one stage, each portfolio will have a number of projects. There is no doubt that you will have to separate it.
We have two airports and six power projects under implementation. As these verticals grow, it is better to separate it. The next step is getting strategic investors.
GVK recently bid for an international airport project in Male. Would you look at more such?
We need to expand and we are looking at opportunities where good airports come up for privatisation.
When you go international, you have to examine the situation carefully.
Any damage that you might face within your country is comparatively easier to handle. In international projects, the ability to absorb shocks is questionable. Our country is safe, in the sense we have financial discipline here, with regulations and statutory compliances.
We will look at projects where we get maintenance and management for 20-40 years. In Mumbai and Bangalore, the management is for around 60 years, so it makes for a viable revenue generating option.
Any interesting domestic airport projects?
The government might announce the Navi Mumbai project next year. Other smaller airport projects may come up. Small airports mean small business, as you get lesser revenue and profit. We will look at growth potential and profitability. In some places, you might lose.
In Indian airports, other than air traffic, landing, takeoff and parking, there are other ways of earning revenues like advertising, food and beverages in the airport. In a smaller place, these revenue streams dry up.
GVK has the right of first refusal in the Navi Mumbai airport. Are you exploring it?
We will definitely look at taking the right to first refusal option. At least the paper is moving in the case of Navi Mumbai, as the land has been acquired and only environment clearance is pending.
If the Navi Mumbai airport does not take off, people will have to go on roads.
Where will they go if they have to fly? They will have to travel to Bangalore and Delhi to catch flights.
Traffic is increasing, more people are flying and there is a limitation on this (Mumbai airport) up to 40-45 million. After that, if another airport does not come up, it is going to be a problem for the city.
How has the traffic grown at Mumbai and Bangalore airports? Will you expand?
 
We are seeing steady growth of 10-20 per cent across our airports. In Mumbai, we have recently opened a new terminal and are building a new one, to be operational in 2012-13. We are planning expansion in Bangalore airport immediately.
Next year, we will go for building a new terminal. This airport is growing fast and has 10 million passengers. We are looking at increasing our stake in it from other stake holders. There is a lock-in period for the other bidders and that is why we are going slow. Once the lock-in is over, we will increase our stake.
Has the slum dweller issue in the Mumbai airport project been solved?
The total land expected to open up is about 275 acres. The developer or whoever is going to shift them will get 65 acres, so 210 acres will be available. This is expected to happen over another three-four years.
About 65,000 people will be shifted. Capacity expansion is not only for building a new terminal but also more space for runway and parking. At Mumbai, we have have only 2,000 acres and 1,000 is occupied.
Other airports have 5,000 acres and this is becoming a constraint. We are unable to offer night parking. Traffic, too, is growing. Currently, it is around 27 million and it could go up to 29-30 million this year.
Will you be aggressively bidding for road projects?
Sky is the limit. We are not looking at only smaller road projects but also large investments. Roads is an area that will become big in the next 20-30 years.
All the expressways are being connected. We are also looking at mega road projects.
The bids will depend on location, traffic and revenue. If these match, we will bid. We are looking at partners, different ones for different projects.
 People who compete one day become partners the next day. Depending on the qualification, experience required and the location, partners will change.