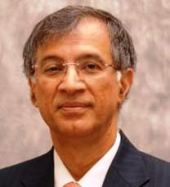 The Hiranandani Group, one of the largest privately-held realty developers, recently announced a foray into the power sector with a gas-based power project near Pune.
In a chat with Raghavendra Kamath, the group's co-founder and managing director, Niranjan Hiranandani, talks about the company's plans and the property market in the country. Edited excerpts:
Why did you go into power, when you could have gone into other related areas?
Actually, we were looking at an infrastructure area such as roads, bridges and so on. We had also zeroed in on a company to buy.
When we were doing our due diligence, we realised it was not worthwhile and dropped the idea. Then we thought of power as a second option and that's why we are here. There are opportunities in multiple areas, but we have limitations to execute these.
What are your plans in power? Will you also be doing other power plants?
First, we will do 400 Mw. Then we will ramp up to 1,000 Mw and ultimately to 2,300 Mw. We have all processes, environmental clearances and raw materials in place. Now we are concentrating on the single plant and later we can look at multiple plants.
Have you tied up funds for this project?
Up to 400 Mw, we can do on our own, with the help of debt. After that, we have to look at external sources, such as private equity.
Why are you not looking at public markets to raise money for your property company?
There is a time and place for everybody. We still have sufficient money to do our projects.
My brother, Surendra, has roped in PE investors in Hiranandani Realtors, which is doing projects in Chennai and other places.
We have also fully invested the fund, which is listed on the AIM (Alternative Investment Market) in London.
You were planning to develop five hotels in the country with an investment of Rs 650 crore. What is the progress on that?
We are completing a 160-room hotel in Mumbai by September. We have postponed the rest, as markets went down. Markets must justify the investment.
Don't you think home prices have shot up too fast in too short a time and have become unaffordable for the common man?
It is bound to happen, when volumes are not enough to meet the growing demand for homes. Supply has to increase. More land has to be made available for developers.
Don't you believe property developers have to be blamed for the price rise?
Everybody has to be blamed. Government, municipality, developers and so on. If so many people come to Mumbai, if you do not provide them housing, either they will go to slums or the rates of existing properties will go up because of overwhelming demand.
Property consultants say home sales are down by 20-30 per cent since the March quarter. What has been your experience?
Volumes have come down but it is very seasonal. On weekly and monthly positions there are hiccups, but on a six-month trend, there is a growth.
A lot of developers who have turned to affordable projects during the slowdown are once again focusing on premium housing. How do you look at it?
One has to be there in the affordable segment to stay as a big player and generate big volumes. By affordable, I mean a house equivalent to four years' income.
In the past 10 years, private developers must have done 10 to 15 per cent of affordable housing projects. I believe in the next 10 years, they will do 50 per cent of these projects.
You were planning to launch affordable housing projects by the end of 2009. What happened to that?
We will do it. It is taking time to get the land together and obtaining permission.
Image: Niranjan Hiranandani