Delhi-based NIIT Technologies posted a 57 per cent rise in net profit for the quarter ended March. It has Rs 189.5 crore (Rs 1.89 billion) of cash on the balance sheet and says this will be used to pursue new opportunities.
CEO Arvind Thakur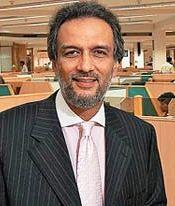 told Kirtika Suneja the would explore only a few segments for growing this year. Edited excerpts:
With the IT industry and global economy recovering, what new opportunities do you see?
We are seeing opportunities in global mega trends like far more regulation and reporting after the slowdown, climate change, aging populations in developed countries that implies greater healthcare requirements and, last, global unrest that has increased the need for security, which can be managed by technology.
These mega trends will throw up new opportunities. Aging populations mean increased healthcare requirements.
Thus, we plan to launch a healthcare vertical by the end of this year, to offer health insurance and other solutions to providers and users in the healthcare space.
From where are the challenges coming?

The new challenges are coming from the supply side. Competition has intensified and India is no longer the only low-cost destination for offshoring.
There is another challenge, to transform the business to offer better domain understanding to customers and not only cost arbitrage, as was the case in the last decade.
During the results, you said the focus will be on emerging markets. Which are these untapped markets?

We have stability in the US that has got more to do with the stability of the rupee rather than business. Challenges in Europe are emanating from the sovereign debt crisis.
Hence, the emerging markets or the focus areas for us are Asia, Australia and the Middle East. So, we will add the West Asia this year by using our strength to enter this market.
We recently opened an office in Dubai. Though the solutions for Asia-Pacific are different from those in the US and Europe, this region is showing good traction.
How is the India segment shaping up?

India contributes 11 per cent to our revenues. We expect it to improve by one per cent every year. In fact, with the deal we had this year with the Border Security Force, this could increase by more than one per cent this year.
It is from the government vertical that India will benefit.
Government contributes five per cent to our revenues now. We expect it to reach seven-eight per cent by the year end.
With almost Rs 190 crore (Rs 1.9 billion) of cash, what are your growth plans?

Organically, we are focusing on our new 25-acre campus in Noida, that will be up and running by the end of this year.
However, there are no acquisitions lined up, because we are always looking  for buys to fill gaps or get into new geographies.
But, we might do an acquisition in the healthcare space to enter it.
Image: Arvind Thakur