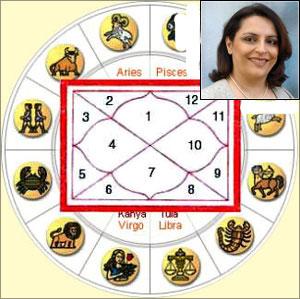 Recently, Astroyogi.com, an India-based astrology portal, reported tremendous growth in the number of job-related queries from its Non-Resident Indian users, especially from countries like the United Kingdom, the United States, Canada and the United Arab Emirates. Queries also poured in from south-east Asian countries like Malaysia, Indonesia and Singapore.
The portal marked 27 per cent rise in job-related questions and about 39 per cent rise in finance and other personal queries in the last three months. To explore the reasons behind this 'reverse brain drain' and also to analyse the functioning of the company, rediff.com spoke to Meena Kapoor, founder and chief executive officer, Netway India Pvt Ltd, the company that owns Astroyogi.com. Excerpts:
In this hi-tech age, why do you think people still believe in astrology?
Human beings are always curious to know more about their future. Therefore, a passion for astrology has always been there among us.
Earlier, we used to rely on newspapers and television. But now, the medium has changed. People are also getting predictions about their future from the Internet, mobile phones, etc.
But the eagerness to learn more about the future is the same.
You mean, for a portal like yours, predicting people's future is the USP?
(Laughs) Yes, you can say that. As long as people intend to know what future has in store for them, Astroyogi.com will serve them.
I must also mention that our portal is content-driven and is not frivolous at all.  Apart from astrological predictions, we also focus on presenting useful information to our users.
Can you tell me more about your portal. Has the journey been tough for you?
We have been in this business for a decade. We launched the company right in the middle of the dot-com bust. You can say that we were in the right place at the wrong time. However, through sheer hard work and grit, we managed to survive.
Today, as we look back at those days of struggle, it gives us tremendous satisfaction.
It is heard that of late, Astroyogi.com noticed a visible growth in the number of job-related queries from its NRI users. . .
Yes, calls and email queries have been streaming in to astrologers on our portal. The queries have been mostly about career, finance and future.
What could be the reason behind the sudden interest in astrological predictions?
I would say the main reason was recession. As Non-Resident Indians reeled under pressure, especially in the US and the UK, they thought of exploring job avenues in India.
After all, India's robust economy could withstand the recession boldly. There was some slowdown, but there was no major debacle to say.
As far as hiring is concerned, it did go down a bit here but it did not stop altogether. And compared to the West, there was fewere job-losses here.
Hence, NRI job-seekers thought India a much better option than its western counterparts.
What was the age range of the people who had hit your portal during the recession and post-recession period?
They mostly belonged to the 30-40 age group. Significantly, there were very few queries from the youngsters.
As a direct corollary to the recession and job cuts abroad, many young people went back to their studies. People in their 30s and 40s were the worst hit and hence they thronged our portal.
How do you actually help the job-seekers?
We provide them with a detailed career guide after doing a thorough research of their astrological possibilities. People who approach us grope for answers. We just lend them the most-needed support.
I just can't help you asking -- don't you ever feel that you actually cash in on people's crisis?
No, not really. You see, people who come to us are already convinced that they would have to look for new jobs. Therefore, they will opt for new employers in any case.
What's the harm if we provide them with the necessary guidance in their trouble-torn time of transition? We provide our users guidance with regard to the best investment and job shift options.
They also get tips on career, job prospects, timing career shift, etc.
Which sector got the maximum number of queries during the recession and months following that?
Most of the career-related queries came in from the IT sector. The emergence of India as a growing economic and IT power has made it a viable option for the NRIs to return to India for jobs.
What, according to you, will be the future of hiring in India?
Hiring in India is definitely going to move northward in recent future. The Indian economy is on a roll and there is no reason to be pessimistic about job opportunities in this country.
Who are your partners? How profitable is the business?
We are proud to be working in tandem with global brands like MSN, Yahoo, Google and Rediff. The services offered by Astroyogi spans across horoscopes in various genres: palmistry, numerology, tarot, Feng Shui, Vaastu and Indian astrology.
In 2004, the company diversified into the mobile VAS industry.
For its WAP/SMS/IVR and live services, the organisation has tied up with all the major telecom operators to provide content for over 250 distinct services in order to ensure that there is a synergy in the content regardless of the language.
It has also partnered with all major telecom players and IPTV players.
What do you think are the basic differences that an NRI comes across when s/he returns to India for work?
I think the basic difference between India and the West, as far as job environment is concerned, lies in people's attitude. Infrastructure-wise, good companies in India are now pretty well-endowed and can easily compete with its western counterparts.
Though I was born and brought up abroad, I came back to India to work by choice and didn't regret in my decision at all. But what often irks me is people's lack of professionalism.
Indians are very lackadaisical at times. They have this chalta hain attitude, which often undermines some sincere efforts put in by others. This has to change really fast if we want to see India emerge as a superpower.
Image (inset): Meena Kapoor