Professor Kavil Ramachandran, the Thomas Schmidheing Chair Professor of Family Business and Wealth Management at the Indian School of Business, Hyderabad, was the only academic in the Indian delegation invited to participate in the (US) Presidential Entrepreneurship Summit.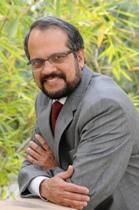 The specialist in entrepreneurship, strategy and family business has over three decades of experience as an academic and has authored six books on the subjects. Ramachandran, who has served on various advisory committees of the Indian government, World Bank, Securities and Exchange Board of India, tells India Abroad what India can bring to the table as President Obama's initiative evolves.
What did you take away from the summit?
I thought it was a very good initiative. I saw it as a sort of evolution, core-creation kind of thing - a different perspective towards aid. Aid was considered charity earlier. Now, we are saying that it has to be wealth creation, so it's a new kind of understanding. It doesn't have to be only government and a lot more of the initiatives will have to come from the private sector. That's the fundamental message.
What about the political angle?
From a political angle, the Obama administration wants to involve other stakeholders as active members of this journey, which is also important from another angle - eliminating poverty and unemployment as a means to fight terrorism.
What was the significance of the invitees being grass-roots entrepreneurs and social entrepreneurs instead of Fortune 500 or Forbes 100 figures?
It provided a platform from two angles. One was understanding what is happening in some of these countries, which you didn't have any exposure to. In my case, I didn't have exposure to Turkey or Egypt. The second was that people from countries like Morocco, Tunisia and Algeria would have realised that it is possible to have small things done in their own country. Instead of the president or the chief executive officer of Google coming and talking, somebody from a smaller place, like entrepreneurs from Indonesia or Malaysia, speaking made an impact.
For you as an academic how important were these interactions?
These interactions were very important and illuminating. For example, my own focus is more on entrepreneurship education and there are quite a few experiments happening in different countries, led sometimes by students, sometimes by faculty, sometimes by the government. It also means that there is a growing interest in entrepreneurial education and the role of facilitation.
Did you discuss your Society of Entrepreneurship Educators and the possible exchanges between Indian institutions and those in some of these countries?
Through this society, we are trying to convey the message of entrepreneurship education, which includes a lot of training programs, web-based information sharing, community contacts working at the grass-roots level and so on. So, this was a tremendous opportunity for discussions on the work we are doing and how we can tie up with like-minded associations and institutions in some of the countries that India has close relations with.
Some dubbed this summit as a Muslim Entrepreneurship Summit because most of the delegates were from Muslim-majority countries or those with sizable Muslim minorities like India. Do you find a problem with this kind of outreach to a specific community?
If you look at it purely from an Indian angle, I thought the Muslim pitch may not be the right thing to do. A focus on less privileged people, including Scheduled Castes, Muslims, or even Brahmins, will be much more relevant. And, the other thing (making it an outreach to the Muslim entrepreneurs exclusively)… it will be considered more limited and there will be a more communal angle.
Which obviously would be counterproductive because the whole purpose of this exercise is to reach out more expansively and get out of any communal bent or parochialism?
That's right. The last thing you want to do is find yourself getting deeper into that kind of a situation, particularly when the initiative is paved with good intentions.
In the post-summit scenario, what can Indian bring to the table?
India has been having entrepreneurship development programs since 1976. So, there is a lot more awareness, lot more experience available within India about entrepreneurship promotion. Coming out of it (the summit), I thought that many of these countries could have more collaborations among themselves. It doesn't have to be only with the US; it can even be without the US.
I think that's yet another positive thing - the US has taken the initiative as a facilitator, but the roles and responsibilities need not be with the US administration getting involved. Maybe the government of India can take this as a means to play a mini-US role in some of the smaller countries.
Hasn't India already been exploring some of these possibilities, particularly in some of the Gulf countries?
I am aware of some of the entrepreneurship promotion agencies in India working in Saudi Arabia or some other Gulf countries that are supposed to be wealthy, but where the SMEs (small and medium enterprises) are neglected. In fact, I met somebody at the conference, who I believe is part of the Saudi organisation for SME development and he mentioned that a couple of my professional friends were advising them from India, which means some of it is slowly happening. Maybe the government can take it as another opportunity to build on. And may be the International Labour Organisation, the United Nations Development Program and other such of organisations could also play an active role.
Isn't this a kind of tailor-made opportunity for India with its years of experience and expertise in take on a leadership role?
Absolutely. Especially in these developing countries where many of them have a lot of respect for India because it has been registering huge (economic) growth and is standing up to the Western world. There are countries that are looking at learning from India... This is an opportunity for India to exploit.