AirAsia Group CEO Anthony Francis Fernandes, also known as Tony Fernandes, has been honoured with Dato' Sri, the highest state title conferred by the ruler of Malaysia for contribution to the state. With a tagline of "Now everyone can fly" for his airline, he has enabled people from Trichy to Mumbai to fly overseas, promising to further lower fares. From humble beginnings to a millionaire, Tony Fernandes shared his journey experience with Business Standard. Excerpts: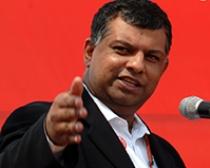 What is your definition of a Low Cost Carrier?
A true LCC is one which can give fares at Re 1, albeit as a special offer. Even our average fares are lower by almost 50 per cent as compared to other Full-Service Carriers.
If you think FSCs provide free meals, that's not true; all these costs are built into your ticket price. AirAsia has not only done away with fuel surcharges, but also provide customers the option to make a choice: whether they want a meal, extra leg room or not.
So, have you succeeded in enabling everyone to fly?
When I flew on our first Mumbai- Kuala Lumpur flight, I met a couple coming to Mumbai for the 50th wedding anniversary of their parents.
I think this is where we have succeeded, by enabling people to fly home for a weekend. I would like to enable people further by enabling them to fly home for dinner. I think what matters is the paradigm shift in the way people now perceive air travel.
Where did Indian LCCs fail?
The difference in our approach has been developing a portfolio first. We were the first airline to fly to Trichy and then after going to newer and uncharted markets, we managed to develop a portfolio that enables us to be sure of a foothold in the metros now.
I think all Indian airlines are polarised towards the metros predominantly, so they have a marginal market to compete in. There are so many unutilised airports and under-served routes here. A good example is the Hyderabad airport, there's so much more that it can be used for, but no, everyone wants to set up base in Mumbai and Delhi.
You have always been a team member, more than the Group CEO. Why do you prefer that approach?
Airlines is a business that requires sustained focus and attention. I can't sit in my office and make my company work. I meet all my team members and try to meet maximum number of passengers.
Most of the people who started airlines were billionaires, but I was a pauper. I have learnt the business the hard way, and let me tell you, it is a hard business to be in. There's also a lot of politics involved, with all the national carriers getting preferences.
How do you manage to keep your costs so low?
One of the first things I did was to set up our own training academy, where we churn out pilots who believe in our culture and reflect our values.
Most of the Indian operators have had to look for pilots from outside and pay a premium for them. Our fleet utilisation is also high at 13 hours. This is one of the reasons for the low costs.
The other reason is we haven't spread ourselves too thin by being a part of too many different ventures. AirAsia is my business, I am clear on that.
Also, this is a volume driven business and we need to keep our volumes up. Otherwise if a plane takes off empty, we have lost that revenue forever. We can never make it up. Focused management and low fuel costs per seat have also enabled us to keep it low.