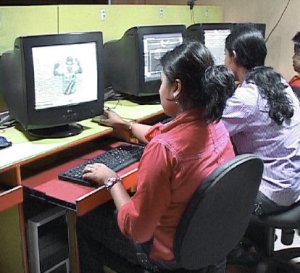 The Indian Institute of Management, Kozhikode, which raised its fee to Rs 10 lakh (Rs 1 million) from Rs 800,000 this year, gave away over Rs 2 crore (Rs 20 million) as scholarships to students last year.
The institute, which altered its admission process to welcome higher number of women students on campus, has increased its allocation to Rs 1.21 crore (Rs 12.1 million) for the 2011 batch from Rs 1.06 crore (Rs 10.6 million) for the 2010 batch.
Debashis Chatterjee, director of IIM-K, tells Chitra Unnithan what changes he plans to make on the campus.
Edited excerpts:
IIM-K is one of the first IIMs this year to accommodate a higher number of women candidates. Do you believe that women make better managers?
Yes, women make better managers. Women in our country have learnt to be more competent in a repertoire of skills and attitudes -- things that are required of managers of this century.
These include networking skills, social intelligence, empathy and environmental sensitivity.
The institute involved around 15 alumni in the admission process. Will it be a regular exercise?
Yes, it will continue. Our alumni bring the industry perspective to the recruitment process. Besides, they transmit the IIM-K culture by osmosis to our future students.
You raised the course fee this year. Are you giving any fee waivers? We gave more than Rs 2 crore (Rs 20 million) in scholarships to students last year.
This year, a significant number of our students, particularly those from the underprivileged sections, will get scholarships.
Do you plan to increase the corpus?
We will increase our corpus to nearly Rs 100 crore (Rs 1 billion) through more executive education programs and prudent management of expenditure.
What are the other changes you plan to make this year at the IIM-K campus?
A new 15-acre land piece will be acquired close to the campus to meet additional infrastructural requirements. Two faculty residences, one student residence and one classroom cluster will be ready by the end of this year.
We will also add a gymnasium and a park for campus children. Ours will be one of the most picturesque oxy-rich campuses in the country.
World class infrastructure such as air-conditioned classrooms, guest care area and LAN/WAN connectivity will enable IIM-K to offer a life time experience to a visitor.
IIM-K is planning a three-day workshop this June on leadership for senior managers in Mumbai. . .
The primary objective is to globalise Indian thoughts. This workshop will bring together some of the finest talents in the managerial world to dig into Indian wisdom that has the potential for global application.
Srikumar Rao and I are talking about creating an alternate way of looking at leading and living in the world.
For a long time, we have been importing knowledge from the West; it's time to bring Indian thoughts to the centre stage of global management practice.