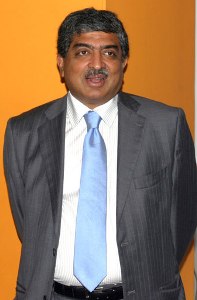 The United Progressive Alliance government has fulfilled its promise to introduce the unique identification scheme after Prime Minister Manmohan Singh and Congress president Sonia Gandhi distributed the first 10 UID numbers, or Aadhaar, in Tembhali village of Nandurbar district in Maharashtra last week.


In an interview with Sanjay Jog, Unique Identification Authority of India chairman Nandan Nilekani explains the objectives of the UID scheme and its challenges.


UID, or Aadhaar, is a reality now with its launch at Nandurbar. Can you take us through the journey so far?

The Unique Identification Authority of India had made a commitment to roll out the first set of numbers between August 2010 and February 2011. We are happy to have achieved this in September 2010.


The challenges ahead are enormous and we need to concentrate on effective implementation now.


What are the challenges that you and UIDAI in general have come across so far?


UIDAI has faced many challenges since this is a mammoth project. The entire team lead by our Director General R S Sharma has put in tremendous effort to roll out the numbers.


Will the allocation of Aadhaar numbers help bridge the widening gap between rich and poor or haves and have-nots?


Today, a large segment of our population have no formal proof of identity. Aadhaar aims to bridge this gap. We believe that Aadhaar would be the foundation for better access to services for a large segment of our population.


Despite various claims, the poor people are still far away from getting benefits of various schemes mainly due to leakages at various levels. How would Aadhaar reduce leakages?


The de-duplication of Aadhaar will ensure there are no duplicates and hosts in the systems that adopt Aadhaar. Further, authentication of identity could be utilised very effectively to ensure the intended beneficiary gets the benefit.


How would UIDAI ensure elimination of duplicity and fake numbers? Is the system tamper-proof?


UIDAI, with the help of biometrics, ensures no duplicates in the system.


Why Nanduabar? Were some special standards applied for it?
The national launch was decided to be held in Maharashtra.


What is the road map to implement the UID scheme across the country?


We intend to give 600 million Aadhaar numbers in the next four years.


Are states coming forward?


We have received tremendous support and cooperation from all states. They have signed memoranda of understandings and will be implementing the project soon.


Subsidy will be provided to incentivise the states to implement within a certain time frame. Can you give details?


UIDAI provides the registrars reimbursement based on successful enrolments. Further, the Thirteenth Finance Commission has also provided funds in this regard.
Image: Nandan Nilekani