With Infosys Technologies' Chairman N R Narayana Murthy set to retire next August, the country's second-largest information technology services company has been hitting the headlines on its succession plans.
Business Standard
 has a tete-a-tete with CEO and MD
Kris Gopalakrishnan
on the leadership issue, especially on the possibility of his becoming the next chairman. Edited excerpts: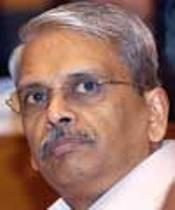 Visa .. chop shop .. leadership changes ... Are we going to see any major transformation within the company?
The company is continuously transforming. If you look at Infosys 10 years back versus today, we are a very different company in terms of services we deliver. Ten years back (in 1999), we were 3,000 people; today we are 115,000 people.
Then, we were providing technology solutions, mainly application, development, maintenance; today, we are a full services company, with services covering all the way from consulting to BPO (business out processing).
Today, we are a business solutions company rather than a technology solutions company. The company will continue to evolve and it will be a different company three years from now or five years from now.
What about the leadership changes?
Of course, leadership change will happen. We have publicly stated the company would be run by professionals from inside; it's not family-owned.
We have clear rules for retirements. So, at some point, we will transition to the next generation of leaders in the company, and that transition will be smooth because that's how we see transition happening at Infosys.
The exit of Narayana Murthy next August is going to create a big vacuum in the top. Is there a possibility of you taking up the role of executive chairman, thus making road for S D Shibulal as the next CEO?
It will depend on the board. These are not individual decisions. All I can say is that we have created the executive council and we have a depth of leadership within the company. We have clearly said the company would transition to the next generation of leaders. It will be announced at an appropriate time.
Are you saying the next chairman will be someone from inside?
I am talking about executive roles. The executive roles in the company like the CEO, COO, CFO and heads of various units will come from inside.
If there is somebody coming from outside, either there is a failure inside in identifying the right leaders or it's a new area where we don't have the expertise inside.
There is a buzz that Mr Kamath is being considered as the next chairman?
Please remember that it is not an executive role. So, I can't comment on that.
Is the next chairman in the company going to be a non-executive one?
Today, the chairman's position is not an executive role. Mr Murthy used to be the chairman and CEO until he reached 60. He is still the chairman of the board, but in a non-executive role. Till now, the company has only one chairman.
Don't you think the company will be better managed if an insider takes up the chairman's role in executive capacity?
In the long term, we have to transition to an independent board. Whether the chairman will be executive or non-executive, the board will decide.
When is your term getting over?
I am 55-56 now, so I have four more years left in an executive position.
You intend to complete the next four years as CEO?
At this point, I intend to continue. It will all depend on what the board decides. What is good about Infosys is that people are not tied to any particular role or responsibility. They have always played the role the company wanted them to play.
We have seen COOs usually become CEOs of Infosys? Since Shibulal is already 56, does he have a chance of becoming the next CEO?
Those are facts. All of us are very committed to Infosys. We are here because of Infosys and whatever we have today is because of Infosys.
So, for us, the company comes first. As long as the company wants us, we will be here. It's not a decision I can take. We have clearly separated ownership from control. It's for the board to decide, based on what is best for the company -- of course with our inputs.
The next generation leaders of the company are all insiders?
All of them are inside people. Even if you bring people from outside, they will be eligible for senior positions only after they spend a year with the company.
Because they have to understand the organisation, culture and how the organisation works to do a good job at their leadership roles.
That is the reason why we have said when somebody senior comes from outside, they will typically join one level below the leadership role.
They will learn Infosys and Infosys will also get an opportunity to evaluate them before they are considered for leadership positions.