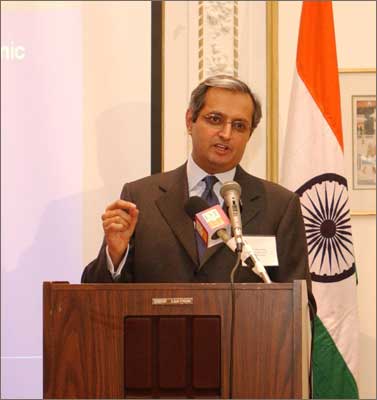 In what 'might be the pound of flesh some shareholders want', the US may axe Vikram Pandit as the chief executive of banking major Citigroup, says a media report.
The New York Post has reported that the US, which is wrapping up stress tests on banks, may oust Pandit as Citi's CEO.
"With the bank stress tests wrapping up . . . regulators think they might have to make the bold move of removing Pandit to signal Washington is taking as hard a line with the banks as it did with General Motors when it effectively ousted GM CEO Rick Wagoner," the report said quoting sources.
Pandit's future at Citi has been hanging in the balance as the financial services major has already received three lifelines from the Federal government to stay afloat.
The New York Post pointed out that Pandit, who took over in December 2007 from the deposed Charles Prince, has voiced his commitment to breathing life into the troubled bank, and is widely seen as not being part of Citi's problem.
"Replacing Pandit might be the pound of flesh some shareholders want, but it's possible such a move would do little to help the firm," the publication said.
The country's 19 big banks are being subject to stress tests to ascertain how well-capitalised they are. The results of the stress test are expected on May 4.
"US treasury secretary Tim Geithner and other regulators have said that they would boot CEOs if the government had to rescue them further," it added.
The publication quoted Citi chief financial officer Ned Kelly as saying, "Replacing (Pandit) would be dramatically destabilising both for Citi and the system".
A Citi spokesperson in a statement said, "Our recent quarterly results reveal the underlying strength of the franchise and Vikram Pandit's strategy at work to restore Citi to profitability".
The report quoting sources noted, "There's a growing sense Pandit might have to be sacrificed".
According to the publication, there is criticism that Citi hasn't moved fast enough to clean up its balance sheet and speculation that the entity may need to raise more cash amid rising writedowns from consumer debt.
"The talk of Pandit being dismissed comes amid speculation that a visit to Citi's offices by treasury secretary Timothy Geithner a week and a half ago might have been to discuss a change at the bank's helm," it noted.
Quoting people familiar with the meeting, the publication said the visit was simply to conduct a checkup on the bank.
Text: PTI
Image: Vikram Pandit. | Photograph: Paresh Gandhi