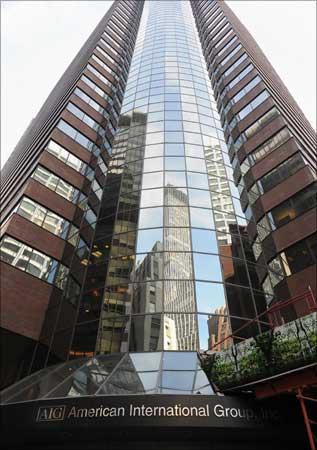 Even as it gasped for breath, American insurance giant AIG was lobbying the United States Congress hard to get the Indo-US civil nuclear energy deal cleared, reports ProPublica.org. Business, it would appear, runs politics in the United States.
American International Group, or AIG, is supposed to have spent over $5 million lobbying in favour of the nuke deal. AIG deployed its own in-house lobbyists, but also employed five lobbying firms, to influence bills and other policy matters in Washington, claimed the ProPublica report.
The signing of the bill by President George W Bush in October signalled a new chapter in Indo-US ties. With the clearance of the deal, India has been released from the 30-year-old sanctions during which it was not given any civil nuclear technology to ramp up its energy needs. The ban was imposed soon after India first tested a nuclear bomb at Pokharan, Rajasthan in 1974.
So why was AIG so keen?
Business, obviously. With the deal having cleared all hurdles, it now opens the floodgates for nuclear trade between India and the United States. Quoting Leonard Weiss of the Center for International Security and Cooperation at Stanford University, ProPublica said that billions of dollars in military technology agreements are going to be made as a result of this deal. And it is likely that this business includes insuring huge contracts between US military technology companies and their Indian counterparts.
Frank Wisner, former US Ambassador to India, is vice chairman of AIG.
The efforts that AIG put in to see that the deal goes through were certainly more successful than the company's own insurance business. The insurance giant has come under sharp criticism after it was bailed out by the US government through an initial $85-billion bailout.
The bailout package to AIG now stands at $152 billion: on September 16, the Federal Reserve gave AIG $85 billion to buy an 80 per cent stake in the company. A few weeks later, AIG was given another $38 billion as it needed more cash. Then again on October 30, the US Fed gave AIG an additional $21 billion, and finally on November 10, under the revamped bailout plan, AIG got $8 billion more.
Image: The American International Group Inc headquarters in the lower Manhattan area of New York. | Photograph: Stan Honda/AFP/Getty Images