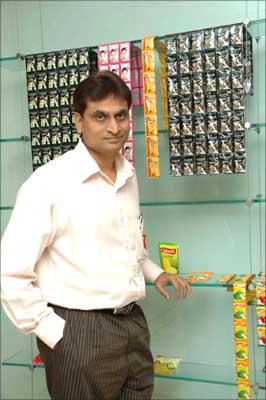 We started getting signals about an impending economic crisis by January-February.
There were reports even in 2006-07 that a crisis was 'likely' but nobody took the warnings seriously, says C K Ranganathan, chairman and managing director of Cavincare in an informal chat with contributing managing editor Shobha Warrier. 
By early this year, we were sure something bad was going to happen. Then the markets started crashing. Though we were doing well, we knew that danger lay ahead.
FMCG has not felt the heat, yet...
Fortunately, we at the FMCG sector, have not felt the impact of slowdown till now. We are still having a healthy growth.
Having said that, we can't remain isolated and escape the crisis; we are also a part of the system. Our sector is bound to be hit in the next two or three quarter.
We are now seeking ways to avoid the downturn. The only option available to us is to offer value proposition and use innovative methods.
Global meltdown: How it all began
When the economy runs into rough weather, there is a reduction in the number of new customers. Therefore, we can only provide better value products to the existing customers.

Also read:
'India, China will emerge stronger from the crisis'
Economist, U Sankar on the ills of globalisation
I don't deny that price will be an important factor at such times. How much value one can pack in a product is, therefore, very important.
If IT sector slows down...
IT industry in India is one of the major indicators for other industries' performance. When IT industry slows down because of a depression in the US, consumers have less disposable income, spending is thus curtailed.
This in turn has a ripple effect on other sectors too. This is true not just in India but all over the world. Auto sector is the first and the most affected by the economic crisis followed by the hotel industry, aviation sector and real estate. Sectors, where indulgence is practised beyond the basic needs, get affected.
Essential commodities are the least hit and people continue to spend on their bare minimum needs. However, they don't get a chance to splurge.
Globalisation has a positive impact:
Globalisation eventually has a positive impact as no country that is fully protected can grow. Individuals and countries flourish only when there is competition. No country can afford to remain isolated.
There is no doubt that if the US financial meltdown had happened in the pre-nineties, we would have been least affected.
On outsourcing:
US president-elect Barack Obama's idea to secure local employment may not stop American companies from outsourcing.
Though he may levy higher tax, US companies may still opt for outsourcing. I feel Obama's stand will not have a big impact on India, and I don't think India's BPO sector will be adversely affected. Slowdown per se is a bigger threat.
There is a bright side to the crisis?
I expect the crisis to continue for at least two years before we are able to overcome it fully.
However, there is a silver lining to dark clouds of this financial crisis. First time we are seeing coordinated efforts from various countries to overcome the crisis.
Meets like G20 where countries are coming together is appreciable. Summits like this will pave the way for more collaborative efforts.
In a way, a global coordinated action is a good lesson to countries alleged to be 'selfish'. They will now realise that they can't live in isolation. That will be the sole positive effect of this crisis.
However, throughout the world, people will have to bear with job loss and poverty. According to me, policymakers across the world are responsible for this chaos.
Image: C K Ranganathan, CMD, Cavincare | Photograph: Sreeram Selvaraj