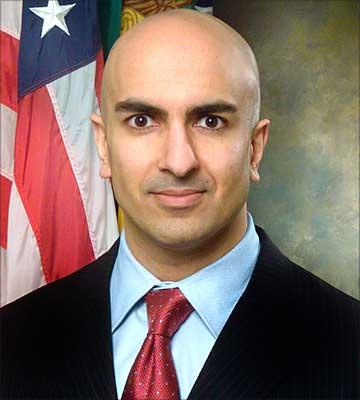 "I am a free market Republican," Neel Kashkari is believed to have said at an American Enterprise Institute Conference some time back. Well, Kashkari's job over the next few months can't really be said to be upholding the spirit of a free market.
Appointed the head of the new Office of Financial Stability in the Treasury department (pending Senate confirmation), the 35-year-old assistant secretary will buy out the bad debts of failing Wall Street institutions.
In a free market, investment banks, brokerages and insurance companies should have been allowed to go bankrupt without the government having to intervene and taxpayers having to make sacrifices to keep them afloat. The consequences of their excessive leveraging should have been faced by their executives who allowed such reckless lending without having adequate capital.
But they're being let off the hook; apparently Wall Street needs to be rescued so that it can get back to the business of lending and so that credit can flow to households and businesses.
Kashkari was part of the Treasury team that negotiated the asset-repurchase programme with the Congress and is also believed to have been one of the originators of the plan. So he has obviously jettisoned his 'free market' views for the time being.
That's not surprising, given his situation. The relatively green Kashkari, an Indian American, has ended up with this enormous responsibility because he's known to have a good rapport with treasury secretary Henry M Paulson with whom he worked in Goldman Sachs when the latter was CEO.
In fact, he followed Paulson to the US Treasury Department in July 2006 as Senior Advisor to the Treasury Secretary and has since worked closely with him. Not coincidentally, a major beneficiary of the bailout plan will be Goldman Sachs.
Kashkari's job will also include finding buyers for the assets that will be bought from investment banks - including mortgage-backed securities and residential mortgages. He has his work cut out for him because risk aversion is higher than ever and few asset managers have the appetite or financial wherewithwal to touch toxic assets even if they're going at 20 cents to the dollar. So, the price at which he can dispose of the assets remains to be seen.
Already, there are many who believe that the funds could have been put to better use and the plan - which the House of Representatives voted in favour of after an earlier plan had been rejected - has been labelled a weapon of mass deception. So Kashkari needs to make sure the plan doesn't turn out to be a donation to irresponsible Wall Street financiers.
Not too long ago, he was part of the club; he led Goldman's IT Security investment banking practice, advising private and public companies on mergers and acquisitions and financial transactions.
Kashkari, who hails from a family of scientists, grew up in Stow, Ohio, graduated from the University of Illinois with a degree in engineering and later received an MBA in Finance from the Wharton School. He has done his bit for science too, developing technology for NASA's space science missions. As a high school student he was a fan of heavy metal bands like AC/DC, whose lyrics feature in his high school yearbook.
Not too much besides is known about the man; one report says he comes off as a "bright, techno-geek economist kind of man, smart, articulate, knowledgeable." With the kind of qualifications and experience he has, Kashkari shouldn't have trouble finding a job even if this government's not around after the elections.
Powered by