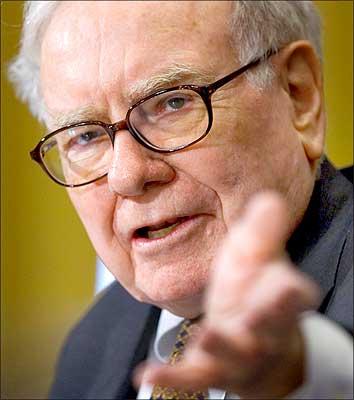 Warren Buffett's decision to salvage troubled Goldman Sachs by pumping in $5 billion yielded immediate dividends to the legendary Wall Street investor who raked a notional profit of $783 million (over Rs 3,621 crore) within hours of the deal's announcement.
According to The Times, within hours of revealing his investment desire in Goldman Sachs on Wednesday, Buffett had made a theoretical profit of $783 million.
"The Wall Street investment bank astounded its rivals by raising $10 billion in fresh capital -- $5 billion dollars from Berkshire Hathaway, Buffett's main listed company, and $5 billion through a public share offering.
"Shares in Goldman rose 6 per cent to $133, giving Berkshire an instant theoretical profit on a side deal, under which it has warrants to buy up to $5 billion of new Goldman shares at $115 a share at any time in the next five years," the newspaper said in a report published in its online edition on Thursday.
The publication quoting analysts noted that Buffett's decision to take the plunge in financial stocks "might come to be seen as the turning point in the financial crisis."
In a separate public offering, Goldman raised $5 billion through issue of new shares at $123 a share.
Shares of Goldman Sachs took a beating last week after Lehman Brothers filed for bankruptcy. Later, the investment banking major and Morgan Stanley became a bank holding firm under the direct purview of the US Federal Reserve.
The report said that Berkshire wrested attractive terms from Goldman and added, "the perpetual preference shares will pay out an interest rate of 10 per cent. Goldman can call these in at any time, but has to pay a 10 per cent penalty to Berkshire." -- PTI
Image: Warren Buffett, chairman and CEO of Berkshire Hathaway, testifies before the Senate Finance Committee during a hearing on the Federal Estate Tax on Capitol Hill in Washington, DC. Photograph: Saul Loeb/AFP/Getty Images