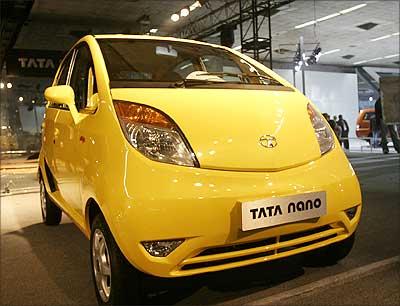 History will be created in Mumbai on Monday evening when Tata Motors launches the world's least expensive car, Nano -- a car that can redefine personal transportation in modern India.
Described as 'People's Car' by Tata Group chairman Ratan Tata, Nano's commercial launch will mark a milestone in a journey, which was replete with controversies, hurdles and criticism from competitors.
As far as customers are concerned, they can expect to own a car coming at a price between Rs 1.20 lakh (Rs 120,000) and Rs 1.30 lakh (Rs 130,000), depending on the version of Nano, although bookings will start only in April second week.
According to dealer sources, if the company keeps the ex-factory price at Rs 1 lakh (Rs 100,000), as promised by Tata, then the base model could easily have an on-road price of Rs 1.20 lakh after adding taxes such as excise duty, education cess and road tax, along with transportation cost, local taxes, insurance and registration fees and a lifetime parking fees (wherever applicable).
Last month, Tata Motors had appointed public sector lender State Bank of India as the sole booking agent for the world's least expensive car from the stable of Tatas. The booking amount is reportedly fixed at Rs 70,000.
Ever since the idea of making a car costing only Rs 1 lakh for Indian passengers was conceived way back in 2003 by Ratan Tata, his dream had to face challenges -- both technical and political.
At a time when input costs were soaring, keeping cost of production of a comfortable mini car powered by a 623cc engine giving a competitive mileage, was a challenge big enough.
While Tatas were able to overcome it, the group was unable to beat political challenge from Trinamool Congress and had to shift manufacturing base from the original location at Singur in West Bengal to Sanand in Gujarat.
It delayed not only the original plans for the commercial launch of Nano by about five months, but also affected its availability.
Till the time the Sanand facility is ready by 2010, Nano will be produced from Tata Motors' factories at Pantnagar in Uttarakhand and Pune in Maharashtra in limited numbers.
After the launch in Mumbai, Nano would be displayed at the company's dealerships from the first week of April, while the bookings would start from the following week. The booking process and other details of the Rs 1 lakh car would be announced on the day of launch.
While critics had been sceptical about the car meeting safety and emission norms, Tata had said during the unveiling of Nano on January 10, 2008, in Auto Expo in Delhi that the car would meet Bharat Stage-III emission norms and could also meet the stringent Euro 4 norms. The car has also gone through a full frontal crash test as per standard norms, he said.
Besides, the European version of the car was unveiled in the first week of this month at the Geneva Motor Show. The company plans to roll out the car by 2011, complying with Euro V emission norms and some added features.
The Nano is 8 per cent shorter than Maruti 800, the cheapest car on offer currently in India, on bumper to bumper length, but is 21 per cent more spacious, Tata had claimed in Auto Expo. The 623cc Nano comes with a 33 HP petrol engine, but a diesel variant would also be launched soon.
The Nano would come in three variants -- standard and two deluxe models with air conditioning. -- PTI