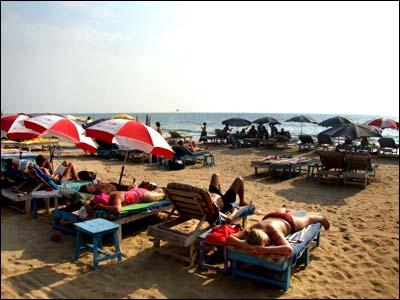 The Scarlette Keeling case has taken a toll on Goa. Goa which is generally known for its serene environment, beautiful beaches, carefree culture is now in the news for all the wrong reasons.
Drugs, sex, mafia, murder and rape are the words that are being associated with Goa today, in the wake of the Scarlette case, which the police now claim was a case of rape and murder.
This fact has not gone down too well with the local Goans who now feel the necessity to give the place an image change.
Several local Goans told rediff.com that they do not want Goa to be known as a hippy paradise. "We have a culture and we feel the tourists coming in should understand," they sea. This is the common voice of the local Goan.
In order to change the image of Goa, several likeminded people have come forward and instituted the Centre for Responsible Tourism.
This venture, which is being promoted by the Council for Social Justice, will aim at giving an insight to foreign tourists into the ethnic Goan life style.
Fr Maverick Fernandes, executive secretary, Council for Social Justice and Peace told rediff.com that they have set up a centre and are looking at issues as to what kind of tourism Goa needs.
He says they will also study whether tourists are looking for another Europe in Goa or whether they are interested in ethnic tourism.
Fr Fernandes says that they have realised that several tourists come to Goa looking for another Europe and in the bargain they forget that Goa has its own culture too.
Says Peter Lobo, a travel agent based in Panjim, that most of the tourists look for a five-star culture in Goa.
Their inquiries are only about the beaches in Goa and the number of shacks there are over there.
There are not too many people, who actually want to see the rest of Goa, its monuments etc, Lobo added.
He also says that promoting ethnic tourism is extremely important. The tourist ought to get a feel of the real Goan culture, such as the warm people, kokam juice and the famous fish curry.
Goa is not all about carnivals, drugs and rave parties on the beach, he says.
Fr Fernandes adds, "The tourists who come into Goa should get to know the real Goan lifestyle and also the local traditions. He also said they had tried convincing the government to take up the initiative. However, since there was not much enthusiasm from their side, they decided to go on their own."
He also says they will be using the existing structures to promote an ethnic form of tourism. The centre is also trying to ascertain as to how much money spent by a tourist remains in Goa.  He says that in several cases, out of the every $100 spent by a tourist, just $5 dollars remains in Goa.
He explains that there is a lot of charter tourism, which is going on in Goa. Most holidays are planned at the source destination and the agencies over there tend to walk away with the profit. Only a minimal amount is being spent in Goa.
"The dream is to ensure that 85 per cent of the money spent in Goa remains in Goa itself. It could help in developing the infrastructure of Goa," he also added.
The local Goans, in the wake of the Scarlette case, have now begun asking questions as to what kind of tourism is being promoted in Goa.
The drug mafia, rave parties and crime have given rise to a view on whether there is a social angle left to tourism in Goa at all.
The rise in the drug scene in Goa is no secret. Worse, many tourists who come down to Goa take up supplying of drugs as a profession.
The Goa police have cracked several cases involving tourists and the claim is that in the past two months four foreign tourists have been arrested while trying to peddle drugs worth around Rs 5 lakh.
The Goan feels that this is a disturbing trend and unless the tourism pattern in Goa is changed, things will only go from bad to worse.
Text: Vicky Nanjappa
Image: Foreigners relax at Calangute beach suggesting that Goa is still a safe destination for tourists despite the recent murder cases.
Photograph: PTI
Read More:
Britons say Goa is still a great place