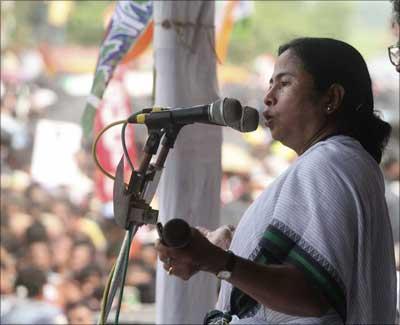 "I will not ride in the Nano which has been manufactured with the people's blood," said Trinamool Congress chief Mamata Banerjee whose party has been blamed for the shifting of Tata's small car factory from West Bengal.
"It is my choice in which car I travel," she said when asked whether she would ever ride Nano.
Banerjee, whose anti-land acquisition agitation led to the shifting of the Tata factory from West Bengal to Gujarat, claimed that the base model of the 'Rs 1-lakh (Rs 100,000) car' will cost not less than Rs 1.54 lakh (Rs 154,000) in Kolkata.
The Trinamool Congress leader had been vehemently opposing the granting of 1,000 acres of land at Singur for the Tata Nano factory. -- PTI
Image: Mamata Banerjee, chief of the regional Trinamool Congress party. | Photograph: Jayanta Shaw/Reuters