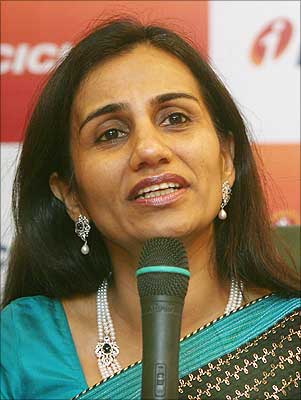 Chanda Kochhar is slated to take over as the managing director and chief executive officer of ICICI Bank on May 1.
In an interview with Business Standard's Shyamal Majumdar and Sidhartha, Kochhar says she is going to focus on the immediate challenge of correcting the cost structure of the country's second largest bank. Excerpts:
You are taking over at a time when the external economic environment is tough, the bank is shrinking its balance sheet and a few of your colleagues are leaving. Do you think the script could have been better?
A leader has to find opportunities in any environment. The environment may be tough worldwide, but there are tremendous opportunities in India. India will play a key role in the global economic growth and banks like us have to play a very important role in it.
In that context, while ICICI Bank's balance sheet is shrinking, it is not a constraint. It is a conscious philosophy that we need to follow for a year or so.
We still have to wait and see when the real demand for credit picks up as it is not prudent to push credit. It is important to focus on the deposit structure rather than on the lending structure. As for the changes on the people front, they involve just one or two.
We have a depth of versatile talent available in the group that can perform different functions. We have made sure that every group company has a strong leader to take the businesses to the next level.
Last year, your asset base shrank by 5 per cent. Do you have any targets on how much it would shrink during the year?
We will keep the balance sheet size the same, which means we would still be doing a lot of fresh lending. We get repayments of close to Rs 30,000 crore (Rs 300 billion) every year, which means even if we keep our balance sheet constant, we will do at least Rs 30,000 crore of lending, if not more.
Keeping the balance sheet constant would help us on the deposit side. What we want to do is grow the share of Casa (current accounts and savings account) substantially and change our deposit structure rather than borrowing more wholesale funds. The priority is really to change the deposit mix and to change the Casa proportion.
Retail loans are about 49 per cent of your asset book -- down from 54 per cent at the end of the December quarter. Is that an area where you are going very slow?
There are some parts of the retail business such as small-ticket personal loans, which we are not doing given the current environment. There are others such as credit cards, other personal loans or two-wheeler loans where we have tightened the credit norms substantially.
The second aspect is that in terms of total disbursements, we are disbursing to the extent we are getting repayments. You always get more repayments on the retail side, while your disbursements are equally spread between retail and corporate.
What about the unsecured loan portfolio?
It is about 15-16 per cent of our retail book. We are bringing its share down to a single digit level.
Overseas expansion was a big thrust area and it is still 25 per cent of your business. What is the strategy?
The rate of growth has slowed down. In the past two-three years, the business grew more than 50-60 per cent a year. This year also you will see a muted or moderate rate of growth.
Again, that's a conscious strategy. In the past we were growing the business on the back of three sources of funding -- long-term bond issuances; we were raising inter-bank borrowings and we were raising retail deposits.
In the current scenario, we are consciously not doing bond issuances as the spreads are very high. While there are still inter-bank borrowings, but given the way the global markets are moving, it does not make sense to pin a lot of growth on the bank of these borrowings.
We are only focusing on deposits. We will grow the balance sheet only to the extent of the deposit growth.
What will be the key changes in the Chanda era?
To start with, the change would be to align the organisation with the current environment, which is very different from the environment in the past.
The immediate focus will be on the deposit structure and to focus on credit quality. We would see growth in the current and savings account, in our branch network and in our net interest margins.
Our reliance on outside agencies to sell our loan products will come down as more selling and cross-selling will be done through the branches.
On credit quality, the approach is going to be more preventive rather than cure. So, there will be more proactive monitoring of the assets.
So, it's back-to-basics for ICICI Bank?
In a way, yes. Every strategy is good in a given environment and given a company's stage of evolution. For the last seven-eight years, the growth rate in each of the businesses was very high. We had 250-300 branches so we had no option but to rely on outside agencies.
So, that was the correct strategy. Now, the environment has changed with the credit growth rate required to be watched very carefully, given the economic environment. We have now moved to 1,440 branches and over a period we will be 2,000 branches. That enables us to change the focus on how we approach our customers.
With 2,000 branches, would you be able to reduce your cost of funds?

Instead of cost of funds, it is important to focus on what is the proportion of Casa. Your cost of funds, relative to other banks, depends on the proportion of Casa. At present, Casa is 28.7 per cent, which is lower than what I would want to be. We should get to at least 32-33 per cent Casa by the end of the year.
But for many PSU banks, Casa accounts for 40 per cent of the total deposits. . .
We have to strike a balance. We cannot say we will stop growing till we achieve 40 per cent Casa. Going from 28 per cent to 40 per cent takes long. The implementation of my strategy is in two phases. In the first phase, we get to 32-33 per cent and till then maintain our balance sheet as constant. After that we grow the balance sheet but simultaneously grow the proportion of Casa to 40 per cent.
After seeing a 35 per cent drop in net profit in the last quarter, would you say the worst is over?
I look at it in many other ways like 15 per cent increase in net interest margins, 15 per cent decrease in operating expenses and 12 per cent increase in operating profit, which are very strong trends. The underlying trends are very positive. For the economy, the worst seems to be over. From here there are only positive trends.
Is there a pick-up in demand for funds?
New projects will still take some time to come. But there are some signs of recovery as capacity utilization is improving, the correction of inventory is over, there is an decline in the cost of production as raw material prices have also come down. These are all positive signs but people would still go a little slow on new projects
You will soon have someone at Axis Bank who knows how ICICI Bank functions. Do you see a key challenge there?
Axis Bank is a very strong bank and PJ Nayak has set a very good legacy. Shikha (Sharma) is a very capable person and I have lot of regard for what she has achieved and I would wish her all the best in her new assignment. Beyond that we will all play our own strategies. The size of the pie is growing and we do not have to worry about who is eating whose pie.
ICICI Bank, which was known to be aggressive, is now talking the language in which SBI used to talk, and now SBI is so aggressive. . .
I will comment on our strategy. Aggression at a time when the economy was growing at substantial rates and the retail lending as an industry was growing at a substantial rate was an appropriate aggression. Caution at a time when the economic environment is so uncertain is an appropriate caution.
During KV Kamath's term, we saw ICICI Bank emerge as the second largest bank in India. Should we now expect ICICI Bank mounting a challenge to the number one position?
My term will be pretty long and it's just starting. But I am not starting my term by putting any challenges to anybody. I am starting my term by looking internally and do what is right for us given the environment and our own balance sheet.
We are still the second largest bank in the country and will definitely continue to remain so. I am not in a hurry to say that I have to challenge the number one player.
How difficult is it to get into KV Kamath's shoes?
He has created a huge legacy and he is an institution by himself. I am not going to measure his shoes. I am going to get into my own shoes. What is important for a leader is that you walk in a stable manner in your own shoes and do not trip. I will take the good points of the legacy forward.
Image: Chanda Kochhar. | Photograph: Punit Paranjpe/Reuters
Powered by