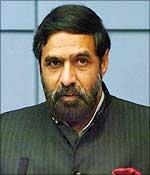 The board of trade, which boasts noted industrialists like Anand Mahindra, Ajim Premji and Y C Deveshwar as its members and is headed by commerce and industry minister Anand Sharma, will meet on August 10 to discuss the forthcoming foreign trade policy.
The board of trade, the government's highest advisory body on export- and import-related issues, advises the Centre on policy measures for preparing and implementing both short and long-term plans for increasing exports in the light of emerging national and international economic situations.
"The BoT will meet on August 10," an official said.
Exporters, facing slump in demand in the major markets of the US and EU, are expecting incentives in the foreign trade policy, to be unveiled in the second half of the month.
The FTP broadly spells out the segments of priority in external trade and also gives incentives and disincentives, depending on the country's needs.
The president or secretary-general of national chambers like the Federation of Indian Export Organisations, Confederation of Indian Industry, Federation of Indian Chambers of Commerce and Industry and Associated Chambers of Commerce and Industry of India are ex-offico members of the BoT.
India's exports are on the downslide since October 2008 because of a slump in demand in the major economies, including the US and the European Union.
Among others, the secretary in the departments of commerce and revenue and ministries of external affairs and textiles are members of the board.
The government also nominates up to 25 persons, including 10 trade experts, to the BOT, which also commissions studies for boosting India's external trade.
The country managed to post exports worth $168.7 billion in 2008-09, which is a meagre 3.4 per cent over the previous fiscal.
The government had appointed Sharma as the chairman of the advisory body, replacing noted industrialist Kumar Manglam Birla.
Image: Commerce and industry minister Anand Sharma