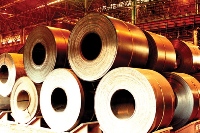 Leading steel producers SAIL and Tata Steel said on Tuesday they have hiked prices of flat steel products by up to Rs 1,000 a tonne on account of improving demand in the country.
However, rate cuts are in the offing for long steel products, used mainly by the construction sector.
Steel Authority of India Limited said it will be reducing prices of long steel products by up to Rs 2,000 a tonne, with effect from August 1.
Tata Steel too said it might consider cutting down prices of its long products.
Tata Steel vice-president (safety and long products) Hridayeshwar Jha added, "There could be a correction in prices of the long steel products depending on market conditions and the monsoon season."
Flat steel products are used by consumer durable industries and the automobile sector, while the long steel products are consumed primarily by the construction industry.
"We have increased flat steel products, excluding sheets and mill plates, in the range of Rs 800 to Rs 1,000 a tonne and cut long steel prices by Rs 500 to Rs 2,000 per tonne, mainly due to the monsoon season when constructions come down," a SAIL spokesperson said.
In Jamshedpur, a Tata Steel spokesperson said the company increased prices of its flat products in spot prices in select markets by Rs 500 to Rs 1,000 a tonne.
Tata Steel increased rates of the long products in April-May by Rs 1,000 a tonne, he added. Tata Steel had also hiked prices of some of its products in June by Rs 500 to Rs 750 a tonne.
SAIL had reduced long steel prices by up to Rs 2,000 per tonne last month and had said it would not roll back the withdrawal of Rs 500 to Rs 750 a tonne rebate on flat steel products it was offering to dealers due to slump in demand.