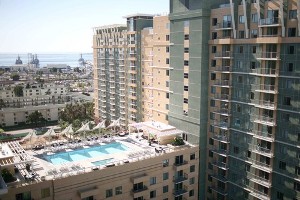 In the past two months, property developers have reported an increased number of inquiries for their properties, indicating the economy is on its way up, clearly visible in companies' recent quarterly results.
This upturn comes soon after an earlier stalling of demand. In February, DLF, the country's largest property developer, said it had stalled construction on 16 million sq ft of commercial space (retail and office) due to lack of demand.
So, too, with other developers like Unitech, Parsvnath and Raheja, who either stalled or slowed the construction of their commercial properties because of a demand-supply mismatch.
That is changing. "We will restart the construction on our stalled commercial projects, as the inquiry from companies has increased. By the time these inquires turn into actual transactions, we want to be ready with our projects", said Rajiv Singh, vice-chairman, DLF Ltd, after the company's Q1 results.
Because of a supply-demand mismatch, rentals came down by 30-35 per cent in the past one year in most micro markets and developers were forced to delay their projects.
However, many companies now feel rentals have touched bottom and want to expand. Parsvnath Developers is developing nearly two MSF of retail space and says it is bullish. "We are focusing on timely completion of our projects, as the demand will certainly increase in the coming months", said Pradeep Jain, chairman.
According to a report by CB Richard Ellis, office leasing volume increased by approximately 3-4 per cent in the National Capital Region during the first quarter of FY10.
Increasing levels of corporate confidence should help maintain the momentum. The NCR saw some big-ticket transactions in the April to June period.
Many companies, including those in the auto, telecom, information technology and banking sectors, posted good results in the first quarter of FY10.
These companies had put their expansion plans on hold for the past year. With their balance sheets coming into shape, they are likely to go for expansion once again in the next six to 12 months.
Raheja Developers was going slow on three MSF of commercial projects because of lack of demand. "We will pace up our construction and would start delivering projects in the next 6-12 months," said Naveen Raheja, CMD.