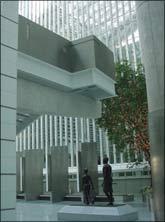 In a critical comment on India, one of the fastest-growing economies in the world, the World Bank said that robust economic growth and food security alone would not remove the tag of being 'one of the most malnourished nations'.
"Whilst India celebrates its booming economy and GDP growth, the country remains one of the most malnourished in the world today," the multilateral lending agency said in a study on undernourished children in South Asia.
India's 2005 National Family Health Survey found 46 per cent of children below three to be underweight and 38 per cent stunted, with national aggregates masking wide disparities, the bank said in the study.
"The survey findings highlight that neither economic growth nor food security is likely to be sufficient to lower the prevalence of malnutrition," the paper said.
Factors such as appropriate infant and young child feeding, hygiene and sanitation, prevention and treatment of illnesses and status of women are critical, it said.
Stating that the level of malnutrition in India is nearly double that reported in Sub-Saharan Africa, the Bank said it is unlikely that the United Nations' MDG (millennium development goals) target of halving the incidence of underweight by 2015 will be met.
Malnourishment rates are highest among scheduled tribes and scheduled castes, with 54 per cent of them being stunted.
Child malnutrition in rural areas is also much higher (51 per cent stunted and 46 per cent underweight), the World Bank said.
Citing the survey, it said that 60 per cent stunted children was observed among the poorest-income quintiles and 50 per cent of children in the middle-income quintiles are stunted.
The main micro-nutrient deficiencies in India are iron deficiency anemia (IDA), vitamin A deficiency (VAD) and iodine deficiency disorders (IDD), the bank said, adding over 70 per cent of pre-school children suffer from IDA.
"Low birth weight (LBW) is one of the key causes of undernutrition in India, where about 30 per cent of the children are born with LBW, and a phenomenon which is largely irreversible," the study said.
LBW is largely due to poor maternal nutrition, it said.
Almost a third of the women in India have a body mass index below normal and the prevalence of anaemia among pregnant women is 59 per cent, it added.
With only about 45 per cent and 88 per cent of Indian households having access to toilet facilities and safe drinking water, respectively, unhygienic sanitation and unsafe drinking water are important causes of child undernutrition.
Referring to the National Nutrition Policy and National Plan of Action, it said, "These two initiatives have however, remained largely on paper due to lack of resourcing and proper monitoring."
On the Integrated Child Development Services programme, which targets the poorest, the most undernourished children under three as well as pregnant and lactating women, the World Bank said there is a mismatch between intentions and implementation.
Besides, the study finds, "The mid-day meal program may be valuable for promoting education and attendance but as a nutrition intervention it does not have much value in reducing malnutrition."
Nutrition-related sectoral plans of other ministries too "remained largely on paper" as the plans were not accompanied by additional resource allocations, coordinated efforts or serious monitoring, the World Bank said.