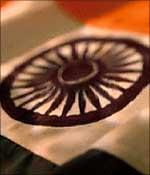 Capital expenditure in key sectors, including power and telecom, is expected to grow at a moderate pace over the next three years, with total investments projected at Rs 10,50,000 crore (Rs 10,500 billion), a Crisil Research study says.
According to the study spanning 11 key sectors, aggregate industrial investments would continue to grow despite the current economic slowdown amid expectations of a relatively muted GDP growth.
The study stated that aggregate industrial investments would grow at a moderate pace over the next three years, with total investments projected at Rs 10,50,000 crore.
This is in contrast to a decline in corporate investments following deceleration in economic growth witnessed earlier.
"Power, telecom and gas distribution are expected to witness strong investor interest. Continuing supply deficit and increased government thrust to augment power generation capacity would attract investments into the power sector.
"In telecom, the factors drawing investor interest, despite high competition, are the continuing buoyancy in mobile subscriber growth and the sheer size of the addressable market," Crisil Research head Manoj Mohta said.
"The anticipated increase in natural gas supply is expected to propel investments in gas pipelines and city gas distribution networks," Mohta added.
The report stated the capex growth can be largely attributed to continued investments in sectors such as power and telecom along with expectations of a gradual economic recovery by 2010-11.
Meanwhile, slowdown in developed economies and falling prices have reduced the attractiveness of the business case for investing in capacity expansion projects in the metals, oil refining, and textiles sectors. Crisil Research expects some of the projects in these sectors to be delayed beyond their planned commissioning dates.
Further, in sectors facing overcapacity such as cement and automobiles, the flow of investments would be subdued.
"In the past, between 1997-98 to 2002-03, private sector investment contracted in response to slowdown in economic growth. However, based on our current assessment of over 500 projects and interactions with stakeholders, we project a seven per cent Compounded Annual Growth Rate in investments between 2008-09 and 2011-12, " Mohta said.
Although this growth is far lower than the 30 per cent CAGR witnessed in the previous three years, it is still significant, he added.
Crisil Research's study on industrial capex provides a detailed assessment of investments projected to take place during 2009-10 to 2011-12 across power, telecom, oil refining, oil exploration, gas transmission and distribution, steel, aluminium, automobiles, cement, textiles, and fertilisers sectors.