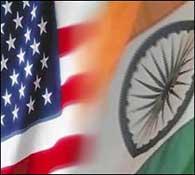 A little over two decades ago, when the then prime minister Rajiv Gandhi -- during a visit to the United States to meet with President Ronald Reagan -- was asked about the flight of top professional talent from India to the US, he said it was not a 'brain drain' as it was being dubbed, but a 'brain bank' for India to draw upon whenever necessary.
Indian Ambassador Meera Shankar was asked the very same question by the members of The Indus Entrepreneurs, Washington, DC chapter during an interaction.
She, too, like the former prime minister said, it was not a brain drain, but rather "brain circulation". "What goes around, comes around, and I have seen that movement of Indians to other countries has had a very positive impact back in India."
Expanding on this point Shankar said, once Andhra Pradesh was one of the most backward states in India. But now it is one of the most developed, thanks to the engineers, technical experts and scientists who came to the US, gathered useful knowledge and then exported that to their home state.
Shankar also pointed out that thanks to globalisation and connectivity, "no one is completely cut off. There is a two-way flow of ideas, knowledge, and investments, and all that helps to circulate rather than act as a brain drain."
Shankar, however, acknowledged that "the Indian government is very keen to attract talent back, particularly for all the new institutions that it is building in the field of higher education." This is where the actual talent crunch is, she pointed out.
Shankar felt that India's ongoing reform process would ensure that many more productive partnerships are built.
She reiterated that "the future will be great," for such professional talent and specific acquired skills, "because there is such an enormous demand in India as the Indian economy grows."
"Indeed, one of the challenges for us is to ensure that we have sufficient qualified manpower. Salaries in India are growing at a very fast pace, primarily because there isn't a sufficient pool of manpower. Even though many have university degrees, the quality of education in these institutions are often not up to the standard."
Shankar explained that as a result, "Along with expanding these universities, we have to devise ways in which to upgrade our system across the country, which is why the government is directly setting up central universities in various states."
"But beyond this, we have this challenge of training people who are not that well equipped to be productive," she added.
 "We are going to set up 10,000 new vocational training and skill development centres. But these will be vastly different from what we had earlier. In the past they were government run and thus bureaucratic. Now, we are roping in the corporates so that there is no mismatch in the skills that these people acquire and the industry requirements."
When asked about the possibility of a resurrection of the outsourcing controversy, where India in the past was often the whipping boy, and particularly in the wake of President Obama's recent remark that American companies should create jobs in Buffalo, New York rather than in Bangalore, Shankar quipped, "I think we should create jobs in both Buffalo and Bangalore."
"I wouldn't call it outsourcing," she said, "because it gives a sense that something is going out. But, I call it utilising synergies for mutual benefit."
When asked what her objectives would be to enhance US-India relations during her tenure and what the Indian American entrepreneurial community could do to help her achieve these goals, Shankar said, "My objective would be to build up the relationship on as broad a basis as possible."
"We have good economic relationships, which is growing, trade has more than doubled," she said, and pointed out that in the past four years there had been a significant uptick of foreign direct investment in both directions. "Indeed in recent years, Indian FDI to the US has been more than US FDI to India."
The envoy pointed out that "in 2007, Indian FDI to the US was over $10 billion. So, this is a huge shift that we are seeing -- the relationship is becoming increasingly a two-way street."
"However, we would like to accelerate this further," she asserted. "We would like to expand the technology partnership with the United States, we would like to see more investments flowing into India's infrastructure sector."
Shankar said, "We would also like to build on the social connections between India and the US in the fields of education, health, culture and then of course, at the political level, we would like to have a relationship, which has a broad spectrum of support in both countries."
In terms of strategic partnership, Shankar said, her endeavor would be to make this even stronger through "substance as well as breadth and depth."
Urging the TiE members to play an important role in bringing both India and the US closer in terms of technical partnership, Shankar said, "There are so many ways in which you can contribute to this process," adding, "If you have a social conscience, then you can contribute to many social projects in India, which are helping to bring literacy, health or other services to the underserved sections of the people."
TiE Washington DC chapter comprises some of the leading Indian American entrepreneurs in the Washington, DC metropolitan area, many of whom do cutting-edge contracting in software solutions and information technology development for Pentagon, NASA (National Aeronautics and Space Administration) and other government agencies.