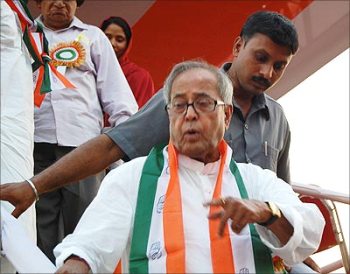 Economy has started moving upward because of two stimulus packages in the last fiscal, but scanty rainfall this year may play a spoilsport, government told the Lok Sabha on Friday.
"The economy has started moving slightly, but still I am not quite sure because other problems may come from adverse impact of scanty rainfall," Finance Minister Pranab Mukherjee said during the Question Hour.
"My colleague, the agriculture minister (Sharad Pawar) is making the assessment. We are also making the assessment but this is a problem and this problem is a reality and we trying to handle it," he said, replying to a question on slowdown of credit between September, 2008 and June, 2009.
When the industrial crisis engulfed developed countries and the financial meltdown became a major financial crisis all over the world, it had its worst impact, the minister said adding that credit is required for investment, for carrying business and using it for productive purposes.
He said these activities were coming down during the crisis period.
A number of steps have been taken by the government like two stimulus packages in December last year and January this year, he said adding that movement of economy is not just like 'switch off or switch on'.
"Even if we take action today by adjusting the credit policy, it will take some more time to get its full impact on the overall economy," Mukherjee said.
Mukherjee said the main reason for deceleration of credit growth was sharp slowdown in growth of the economy during the latter half of 2008-09 with both industry and export sector recording negative growth for several months.
"The global meltdown and volatility in financial markets resulted in rising uncertainties and dampened business sentiments thereby further contributing to slowdown in demand for credit," he said.
Murli Manohar Joshi of the Bharatiya Janata Party questioned government's policy of heavy borrowing in the current financial year to nearly Rs 4 lakh crore (Rs 4 trillion) and asked whether industry would suffer due to this.
To this, the finance minister assured the House that there was no reason for elbowing out the small and medium industry who need credit.
"This will be a balancing act and we will take measures after consulting the Reserve Bank of India to ensure that the private sector is not elbowed out in the market," he said.
Justifying huge borrowing, the minister said there were very limited options and priority was to arrest the slowdown in the economic growth rate.
Two consecutive stimulus packages and other fiscal measures have paid dividend to some extent as 'we settled with growth rate of 6.7 per cent in 2008-09 against a projection of 5.4 per cent.'
Image: Pranab Mukherjee. | Photograph: Rediff Archives
© Copyright 2021 PTI. All rights reserved. Republication or redistribution of PTI content, including by framing or similar means, is expressly prohibited without the prior written consent.